Adding a fairy-tale theme to your garden can be a great way of improving it. It's also a fantastic addition that will complement the beauty that's already offered by the flowers and other plants available in the garden. However, finding the right fairy garden idea can be challenging. Don't worry though, we have created a list of creative and simple solutions that we think can go a long way in getting you started. These ideas are designed to complement whatever decoration you already have in your garden or home.
Here are a few of them.
Broken Pot Fairy Garden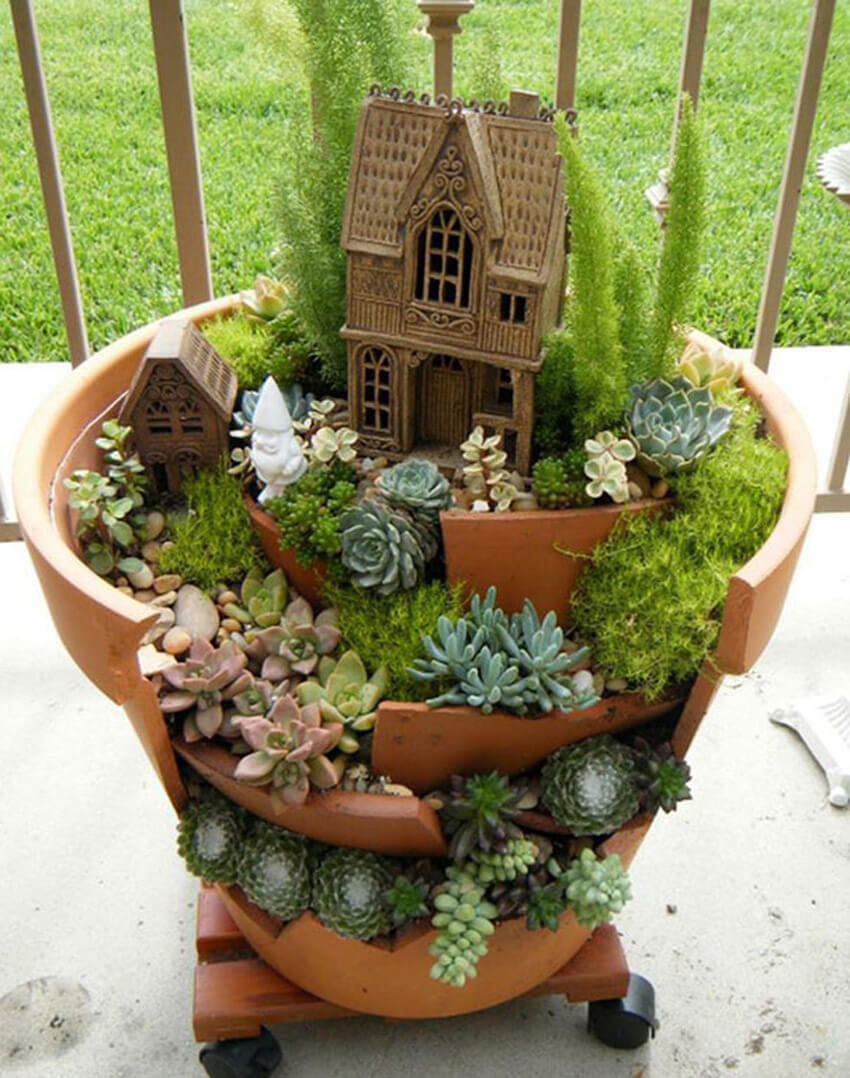 Do you have a broken pot somewhere at home? Well, you can use it to make a simple and breathtaking Broken Pot Fairy Garden. All you need to do is ensure the soil in the pot is still compact despite the breakage. Build a little miniature wooden house on the top and plant a few green plants around it. Add the king and queen of the castle outside and that's it. This is a beautiful and simple idea that will change how your garden looks.
DIY Teacup Fairy Garden
Creating this miniature garden is easy. All you need is a teacup and a few creative decorations. Start by putting in a few plants on the cup. Once you are done, add a white miniature garden chair on top of it. If you have an old ceramic teapot or kettle that you no longer use, you can add a few plants and place it side by side with the teacup. Place the arrangement on your apartment's table and you are done.
Fairy Door Clay Pot Planter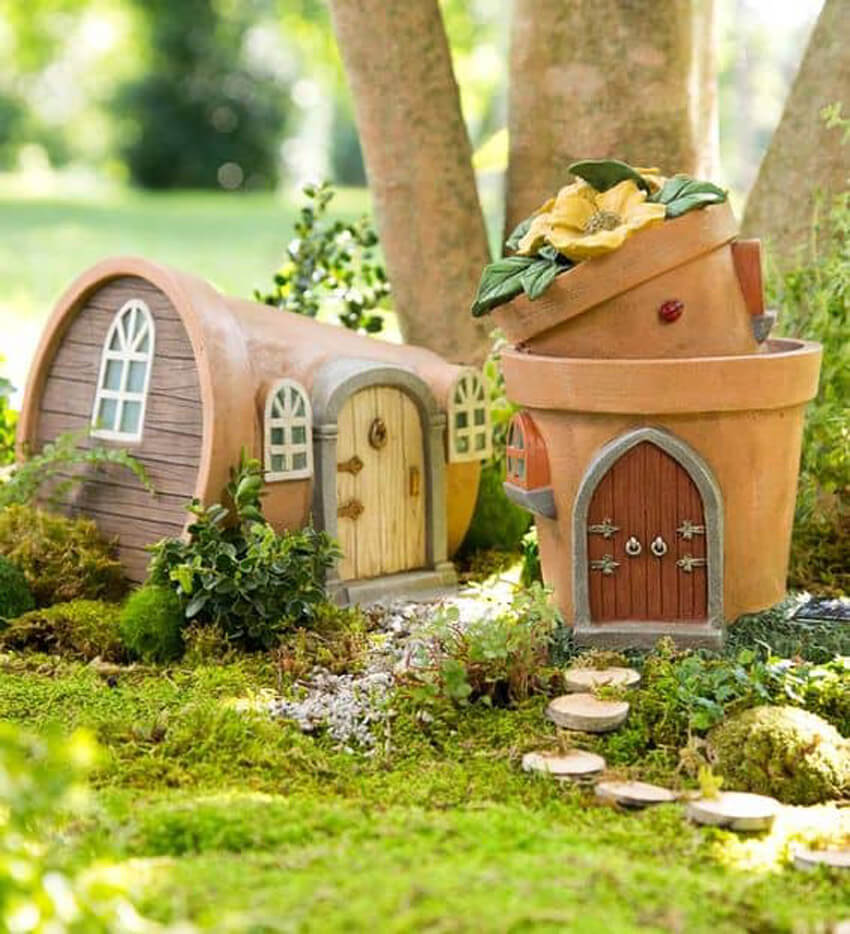 The fairy door clay pot planter features two or three broken plant pots neatly arranged for an outstanding miniature garden. The first pot stands normally. Make a small opening on one side to look like a door. Popsicle sticks will then be used to create the door. The other pot is basically broken in half. The broken side is arranged to face downwards. The pot opening is filled with a small wooden wall with a window made of white popsicle sticks. A small door on either side of the pot will also come handy. You can plant a few green plants around so the end result will look stunning.
Suitcase Fairy Garden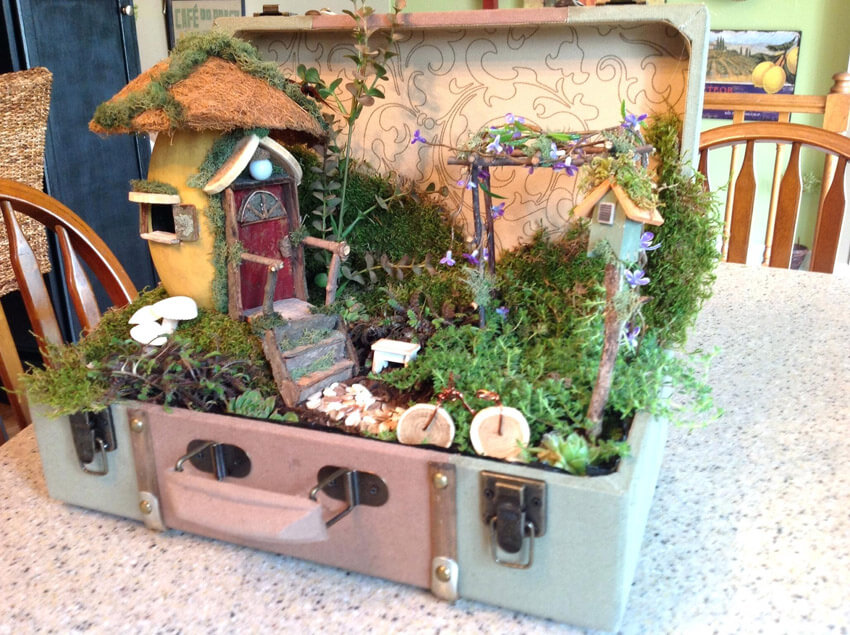 In case you have an old vintage suitcase at home then you can use it to make this simple suitcase fairy garden. Here's how:
Open up the suitcase first.
Put in some soil and a few rocks on the bottom.
Add greenery to the soil until it looks like a real garden.
Once this is done, build a small miniature house.
Find small and soft white rocks and arrange them neatly from the miniature house to the edge of the case.
Place the arrangement in the garden or anywhere else you want.
And that's it! Easy, right?
Lakeside Cottage Fairy Garden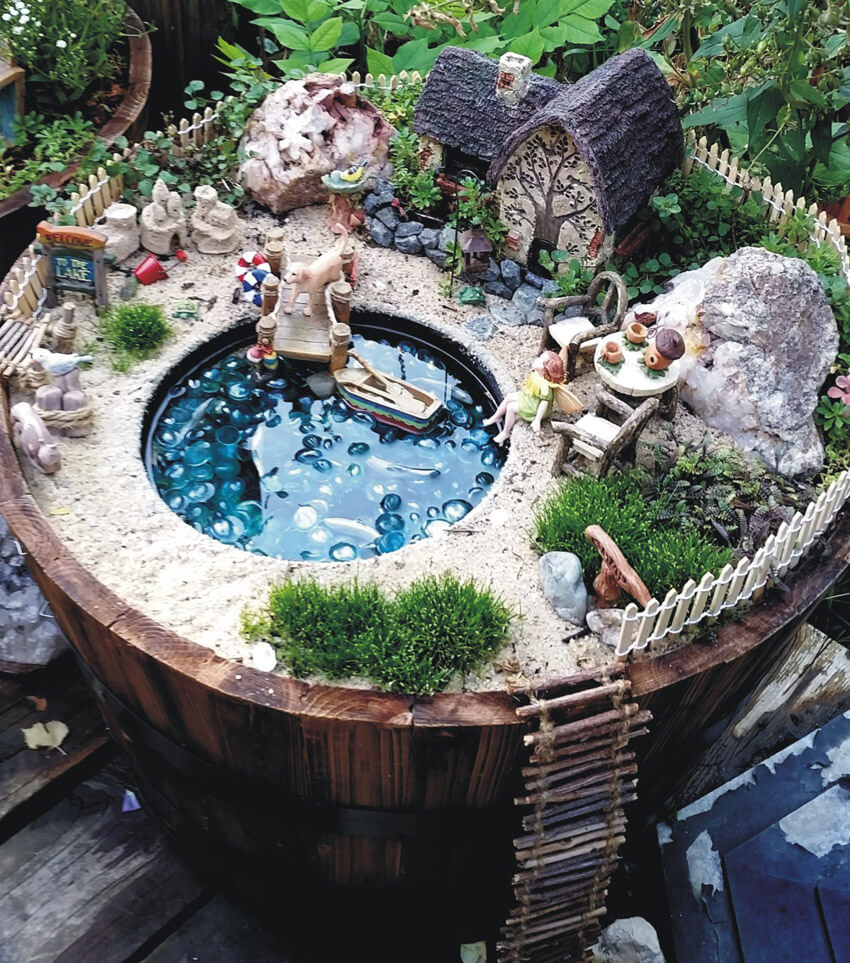 This is a miniature garden that has a lake. Most of us would want this in our real garden but sadly that's not possible. You will need to create this on raised ground. Start by making the lake. It can be any shape you want. Add a small cottage at the edge and white sand from the lake's shores to the cottage. Accents of green on the edges of the miniature lake and a few small chairs will add to the magic. White rocks too will be a great choice and if you can create a miniature wooden fence around the arrangement, it will be even better. In addition to this, add a small ladder from the ground to the garden using popsicle sticks or any small sticks you can find. This is perhaps the most elaborate idea in this list but it's great.
Creating your own miniature garden can take a lot of time and creativity. However, once you finish it, it will all be worth it. The simple ideas above will help you get started.