Climbing plants are beautiful and they can provide that natural shade during hot weather. There are many different types of climbing plants that you can use. Each plant is different and unique to various climates but there are many that would do well in most climates.
Roses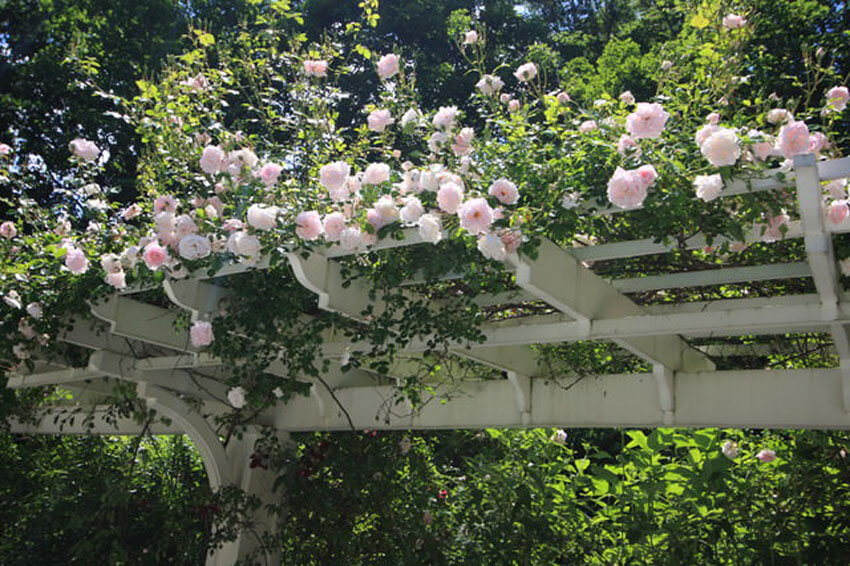 The beauty of roses is unmatched and it's no surprise that this plant is very popular in most gardens. However, they can add a lot more magic if used as climbing plants for a pergola. Roses are very romantic. They lend a nostalgic and special feeling to any garden owner. Various varieties of climbing roses exist and any will work for you.
Honeysuckle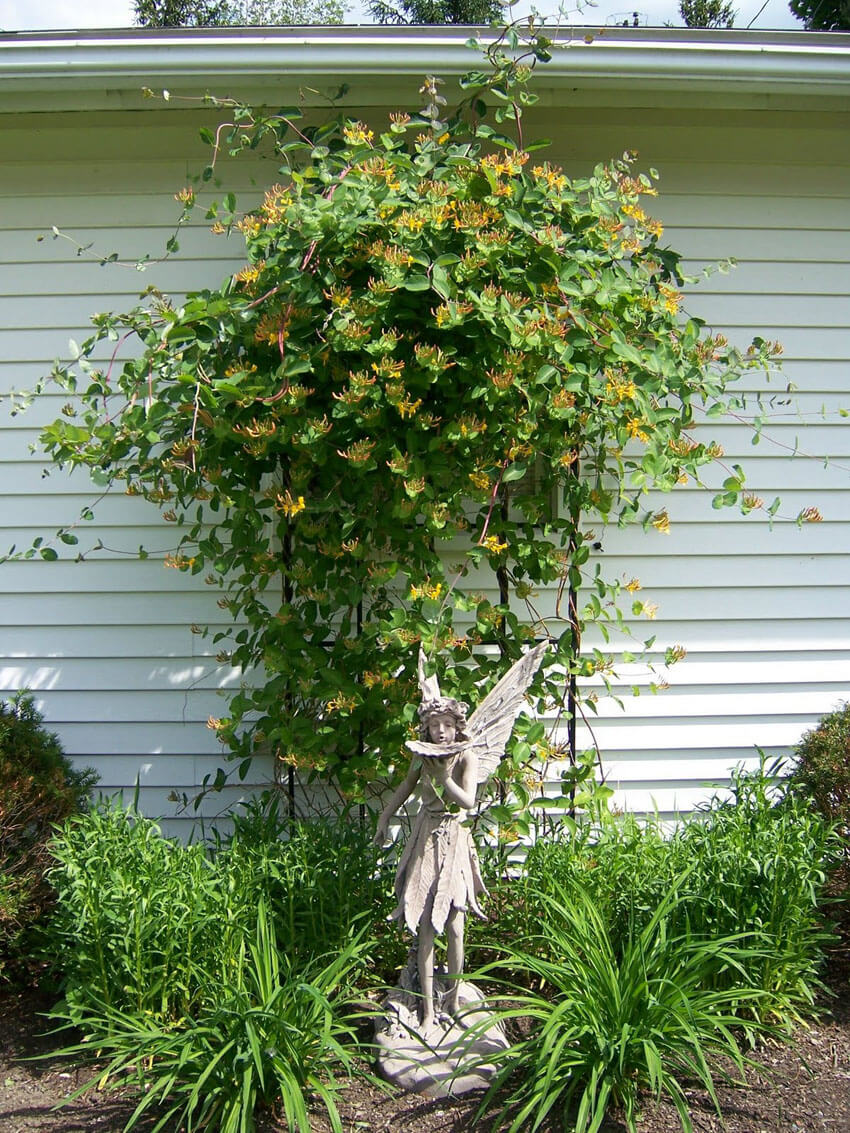 There are over 180 species of honeysuckle flowers. They have a very large vine that grows very fast to produce brightly colored and sweet-scented flowers. If you have a big pergola or perhaps you are looking to use climbing plants to cover a large area, the Honeysuckle flower plants will be your best bet.
Passion Flower
The passion flowers are unique and beautiful climbing flowering plants that can grow in most climates but would do very well in USDA Zone 8 - 11. The flowers do grow very fast. In addition to this, they also produce sweet edible fruits that you can enjoy as you cool off during a sunny hot day. The passion flowers have often been used in patios, rooftops, balconies, and other outdoor spaces.
Grapevine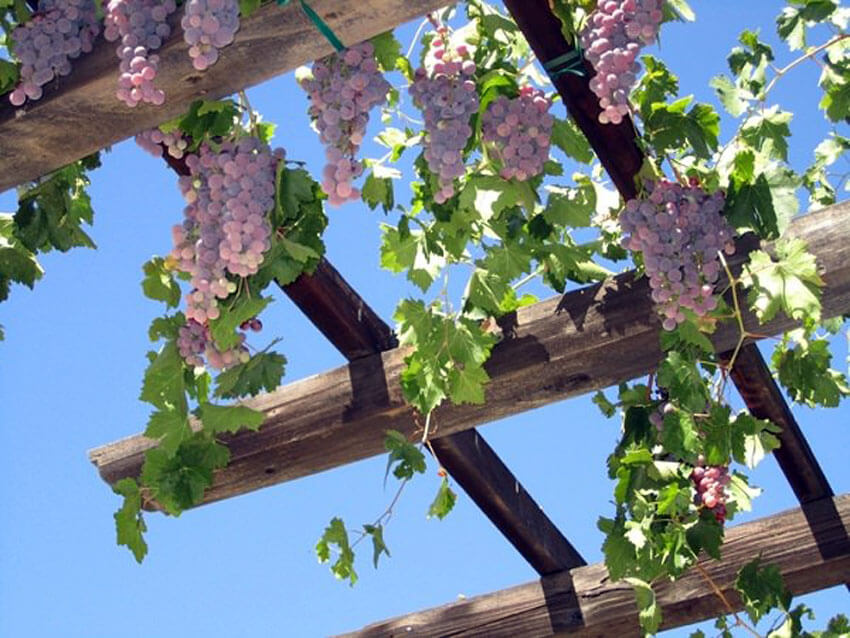 There's no better climbing plant out there than the grapevine. In fact, it's one of the most widely used plants in many parts of the world. Although grapevines are indigenous to the Mediterranean, they can be grown in a variety of climates. Grapevines can grow to massive heights and can cover a huge area. If you are going to use the plant on your Pergola, balcony, or patio, you will need to have a maintenance routine that trims off the overgrown vines. Nonetheless, despite the work, it will be worth it.
Trumpet Vine
The Trumpet vine produces beautiful trumpet-shaped flowers that come in different colors including yellow, orange, and red. The only challenge with trumpet vines is that they do attract pollinators such as bees and hummingbirds. Although the trump vine can look great in any garden, it would be best if it's used on arches and trellises.
Bignonia
If you are looking for a touch of bright color on your pergola then bignonia would be the best climbing plant to go for. The plant is also quite vigorous and it can easily tolerate moderate to mild frost weather conditions. The plant provides very good shades. The flower color ranges from a dark red to a light pink color. Either way, it's a plant that adds the beauty and functionality you are looking for on your outdoors.
Bougainvillea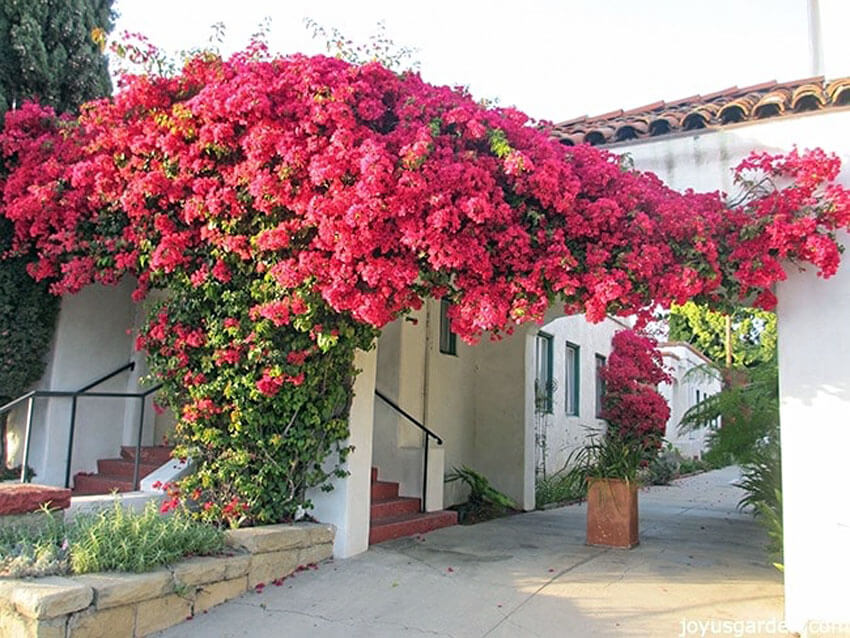 Bougainvillea is also a very popular climbing plant that's found in many homes and gardens. What most people like about it is the rapid growth and colorful pink flowers that it comes with. However, you need to be very careful when you choose a variety to grow in your garden. Bougainvillea may not grow in all climates. In addition to this, while the common variety available tends to produce pink flowers, some varieties will yield beautiful yellow, purple, or red flowers.
Golden Hoops
Golden Hoops is also a fast-growing vine that can be used for the pergolas, the arches, or the trellises. The hoops can actually grow to up to 8 meters long making it one of the best vines to use in covering up any space. The lime green and sometimes yellowish foliage are very appealing too. The plant tends to do very well in USDA Zones 4 - 8.
These are some of the best climbing plants that you can use for your pergolas or arches. There are more out there too so do your research to find the best choice for your garden.
---
Need some help picking the perfect climbing plant for your backyard? Call us today and get a free estimate on landscaping services!
Keep Reading: