We all know that turkey is the culinary star of Thanksgiving. Add some cranberry sauce and pie to the mix and you are good to go. But there are also other side dishes you can prepare for your family in order to add to the magic that turkey already brings to the table.
A little something on the side:
Thanksgiving is supposed to be that one time of the year where everybody comes together to enjoy a meal and catch up with each other. Side dishes can really spice up the menu and in order to help you with this, we have prepared a list of simple side dishes that you can try out this Thanksgiving.
Fluffy Apple-Cheddar Biscuits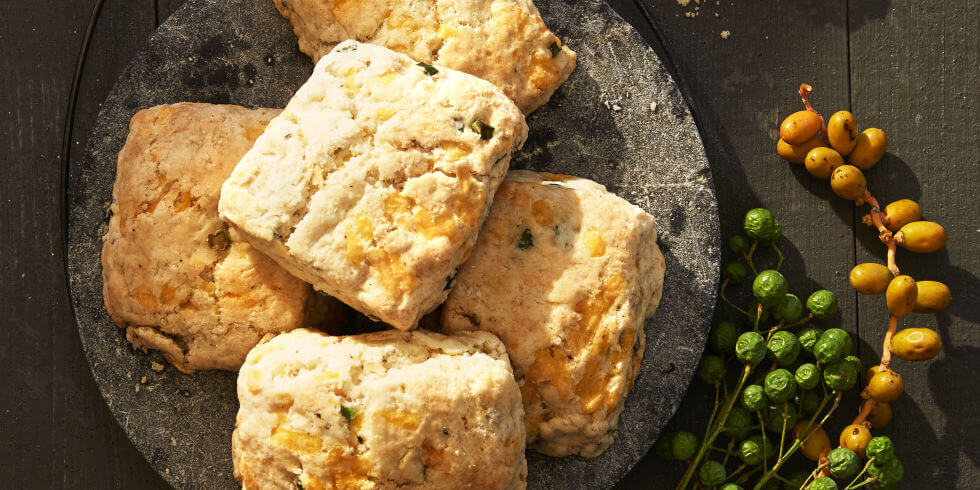 "An optimist is a person who starts a new diet on Thanksgiving Day." - Irv Kupcinet
The Fluffy Apple-Cheddar Biscuits go well with the mouth-watering gravy. They are sweet and cheesy but what we really love about them is their crumbly nature. Even without the gravy soak, the biscuits are still a great choice to start off the Thanksgiving meal. Besides, they are also easy to make even for a bigger crowd.
Egg
Milk
Pepper
Flour
Sugar
Baking powder
Salt
Butter
Onions
Apples
Cheddar cheese
Crispy Roasted Potatoes with Caper Vinaigrette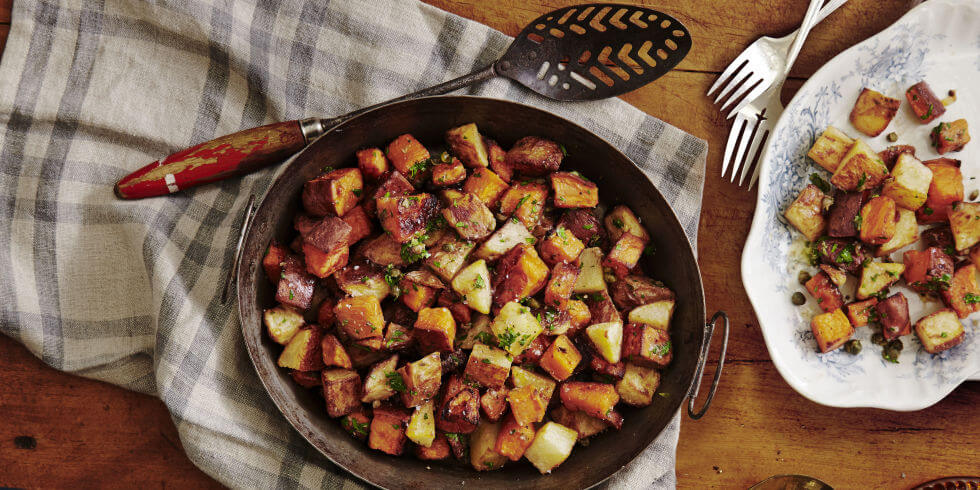 There's more than one way to enjoy your potatoes this Thanksgiving. Most of us love our potatoes mashed but there's no reason why you can't have the best of both worlds. This Crispy Roasted Potatoes with Caper Vinaigrette is a light meal that will complement whatever else you are serving. The flavor that comes with the Caper-Vinaigrette will be something to savor.
Potatoes
Sweet potatoes
Olive oil
Vinegar
Parsley
Garlic
Croissant-Mushroom Stuffing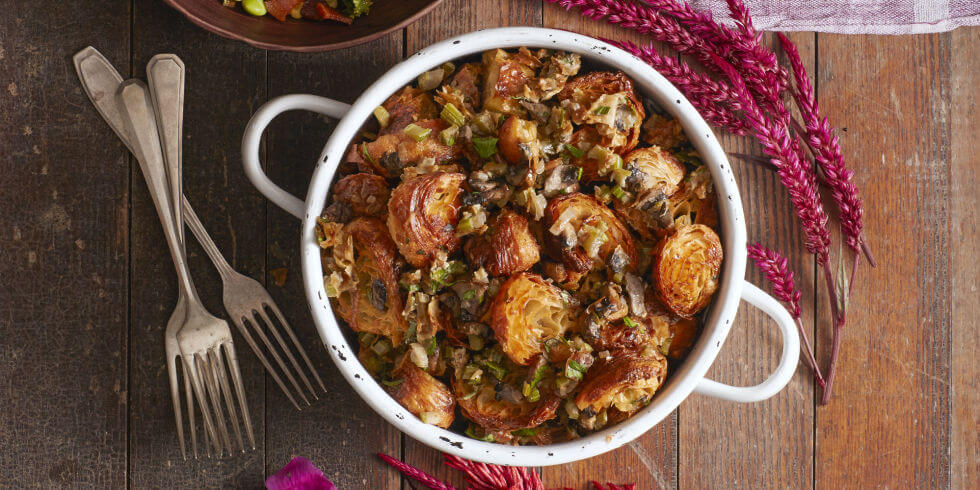 Many people inevitably pick cornbread when they are deciding which carbs to add to the stuffing. Well, don't get us wrong, cornbread is still a great option but just to twist things a little bit this year, we would like to recommend croissants. This Croissant-Mushroom Stuffing is absolutely delicious and healthy too. If you want to change your menu a bit, starting with the stuffing is highly advised and the Croissant-Mushroom Stuffing offers a perfect option.
Eggs
Parsley
Sugar
Thyme
Olive oil
Celery
Onion
Mushrooms
Croissants
Cranberry Mostarda
Source: Food and Wine (http://www.foodandwine.com/recipes/cranberry-mostarda)
Cranberry sauce is, of course, a big part of the Thanksgiving menu. But forget that for one moment and consider this Cranberry Mostarda. The Mostarda with a touch of mustard seeds, some ginger, and white wine. Besides, it tastes even better on a turkey sandwich so make sure you give it a try.
Mashed Potatoes with Caramelized Fennel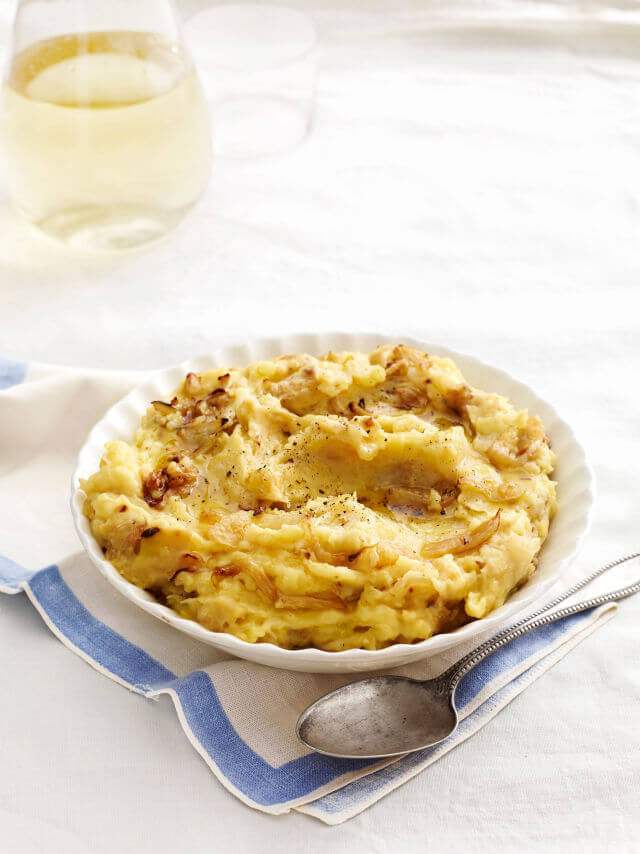 We know that mashed potatoes are going to be part of your Thanksgiving menu and even though we have recommended another potato-based side dish in this list, we honestly believe that mashed potatoes are still essential. But instead of the usual cream-filled version, we have decided to give you Mashed Potatoes with Caramelized Fennel just to lighten up your mashed potatoes recipe and add a new twist to your Thanksgiving specials this year. It's a great way to enjoy potatoes and it will taste great with gravy.
Maple Meringue Sweet Potato Casserole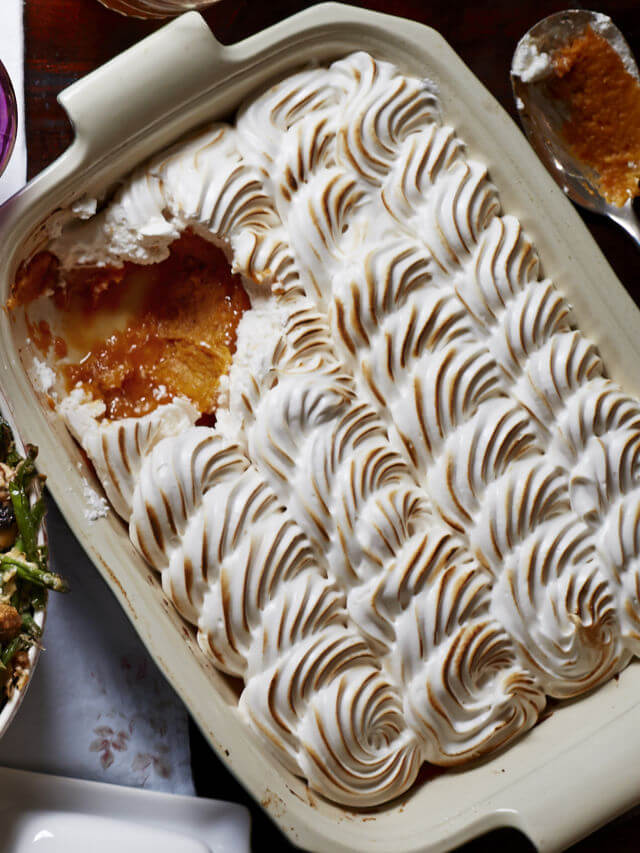 You won't ever eat a casserole that tastes better than the Maple Meringue Sweet Potato Casserole. The breathtaking delicacy of the meringue blends perfectly with the creamy invitation of the sweet potatoes to give your family the ultimate Thanksgiving casserole. It may take some time to prepare but you will be glad that you waited.
Fennel and Orange Salad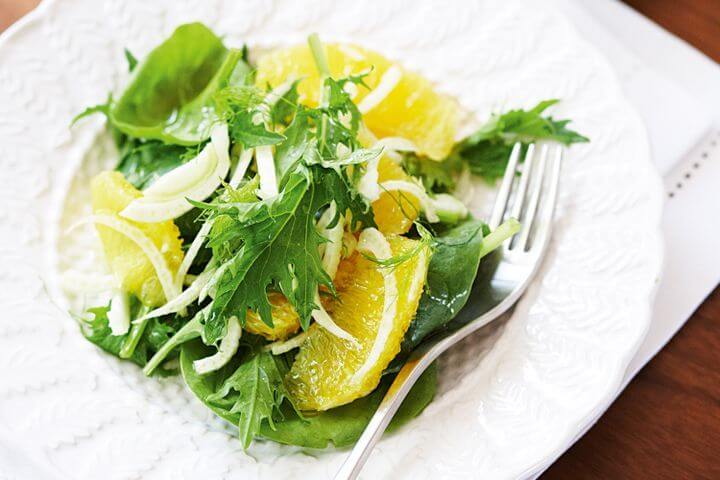 If you're already thinking about roasting a few things on your menu, no doubt that you will need a great salad. The Fennel and Orange Salad with its tangy feel will compliment almost every roast you are thinking off. The salad is also perfect for the casserole, and is easy to prepare too.
There are many dishes that can revamp your Thanksgiving menu this year. However, don't forget to pay attention to the side dishes that make everything come together. The list above should be a great start for you this year.
Related: 6 Last Minute Ways to Prepare Your Home for Thanksgiving
Like these ideas? Which ones are you going to take to heart? Let us know in the comments below!