Pebbles call to mind that relaxing and enjoyable feel of walking along a stream or river. You can easily recreate this serene feeling in your home decoration using pebbles in many ways depending on the exact look you intend to achieve (especially if you're going for a spay style). From coasters and place mats to bath mats and pebble-decorated walls, these soft stones can be used to create many decorative functional items in your home. Pebble décor works well in both modern and traditional homes.
The real beauty of incorporating pebbles in your home decoration is the fact that pebbles are natural and unique. Every floor or bathroom decoration you create with pebbles will be unique and not found in any other home. Pebble-made items can never be identical.
Pebble DIY projects are inexpensive too. You can even have your children collect piles of pebbles while at the beach or buy them at your local builders for cheap. Here are a few exotic yet modern ways to use pebbles to create crafty DIY home décor items for close to zero expenses.
Make a Pebble Bath Mat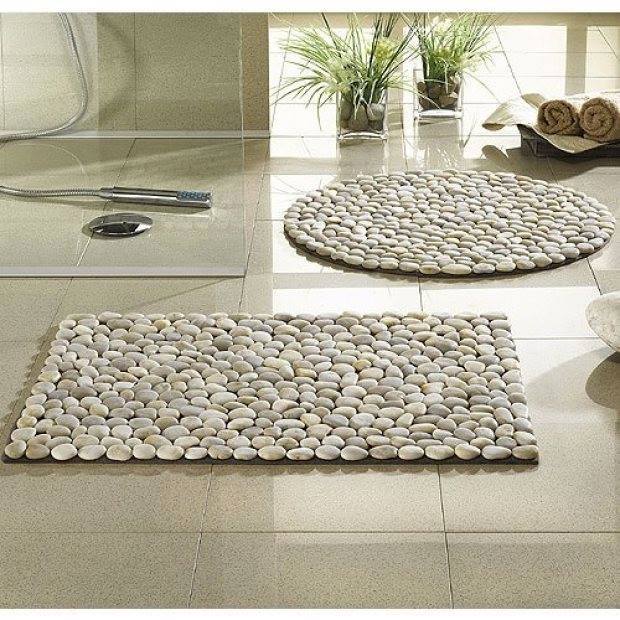 Create that spa style that you have always admired in your bathroom with a simple DIY pebble bath mat. This pebble made bath mat gives your feet a nice soothing massage every time you leave the shower or bathtub. It is easy to make and inexpensive too. To make a pebble bath mat you need:
An assortment of pebbles of different sizes
A rubber mat
Newspaper or dropcloth
Pattex Universal Silicone
Clear spray varnish, either satin or gloss works well.
Directions:
Choose pebbles of almost the same size, preferably those that will stick down easily.
Cut a sheet of doormat to the size you want or simply recycle an old doormat.
Arrange the pebbles on the mat until they all fit nicely, then use the Pattex Universal Silicone to attach each pebble to the mat. You can easily do this by applying a drop of silicone on each pebble then pressing the pebble firmly to the rubber mat.
Leave the pebbles to stick onto the mat for 24 hours.
Apply a gloss or satin spray varnish on top of the pebble bath mat.
Remember to choose the smoothest beach or river pebbles for the bath mat. The pebble bath mat will give your bathroom a neat natural river look as well as massaging your tired feet at the end of a tiring day.
Make a Bedside Pebble Mat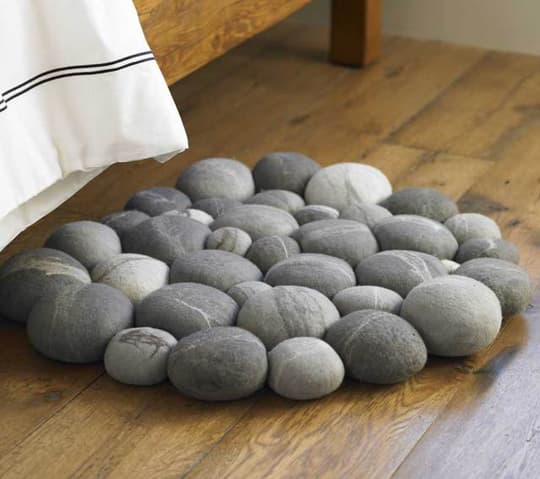 Use the steps above to create a second pebble mat and place it next to your bed. When waking up, place your feet on the pebble mat for a few minutes to get a nice foot massage to start your day off right. The pebbles can also help get your blood circulating too!
"Write your worries in the sand and carve your blessings in stone." -Unknown
Make Pebble Cactus Plants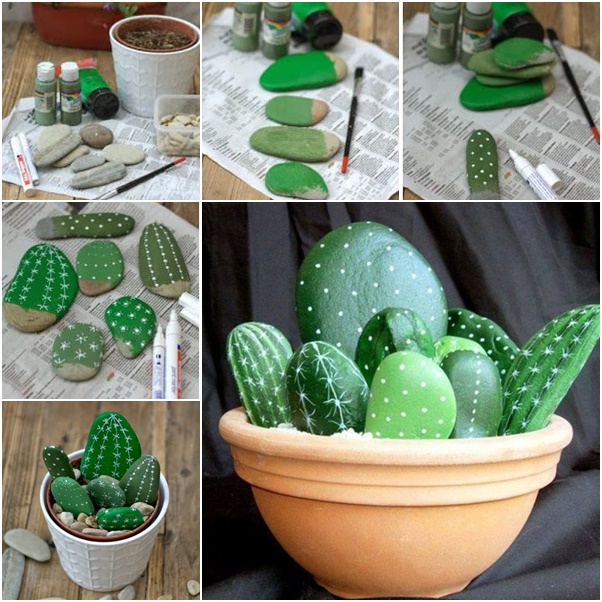 Can't seem to keep anything green alive? If you don't seem to have a naturally green thumb, consider using pebbles to create your own pebble cactus plants. Round up a bunch of pebbles in varying sizes and shapes and paint them to look like cactus plants. Then simply put them in a small terra-cotta pot and you have a plant that you never have to worry about!
There are many other decorative and functional items you can make using pebbles. A nice pebble tray at the doorstep will help to wipe muddy feet before they venture indoors, and pebble placemats help to protect your table from hot pans, pots and plates.