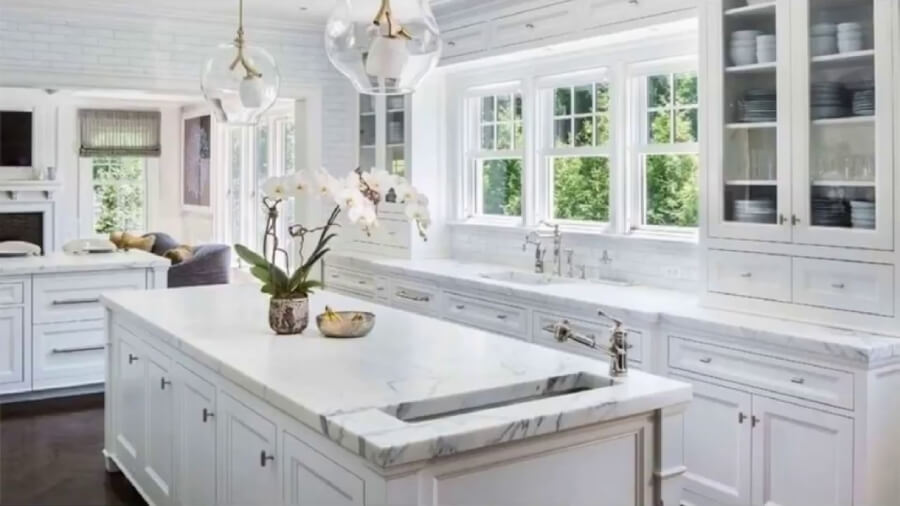 Cabinets are probably one of the most prominent parts of any kitchen. In that case, it's very important to try to keep them tidy, well organized, and in good condition. However, cabinets are prone to normal wear and tear. Eventually, the effects of food spills, grease, and moisture start to show. If this is not addressed soon, the stains can become permanent.
We have a few strategies that might actually help you maintain your cabinets and make them last longer.
Line Up the Drawers and Shelves
Lining up the shelves and drawers in cabinets can help minimize dirt and grime on the inside. The lining can also play a part in protecting the dishes and glassware. For cabinets under the sink, you can use easily replaceable parchment paper. The knife drawer, on the other hand, should get vinyl board cover liners. This keeps the knives from sliding down.
Other types of liners can be put to use too, such as:
Adhesive plastic is very popular. It's simple and inexpensive compared to other options in the market.
Rubber is a resilient material that can be used to keep dishes and utensils in place. However, don't use it for drawers that contain silverware. Rubber contains sulfur which can be corrosive on silver.
Clean Up the Cabinet Hardware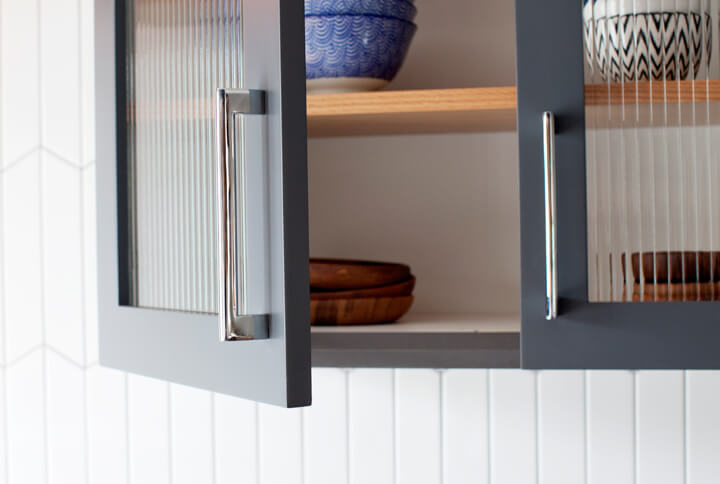 Grime tends to build up really fast on cabinet doors, especially on the handles. If that build up goes on unnoticed or unresolved, it can become a very stubborn stain to get rid of. However, you don't need to worry. A mild dishwashing liquid mixed with water should get rid of the grime.
However,
In cases where the grime has built up for a long time, a simple routine cleaning session may not work. In such a scenario, follow these steps:
Remove the handles from the cabinets and soak them in warm soapy water for 30 minutes.
Proceed to scrub the handles lightly with a brush to remove the extra grime.
Let them dry completely before screwing them back on the cabinet doors.
Clean Cabinet Boxes and Doors
In case you have glass front cabinets, you can wipe them using a solution of white vinegar and warm water. There are also a few products in the market designed for glass cleaning, which can too offer great results.
However,
Avoid abrasive cleaning tools at all costs. This could scratch the glass or dull its shiny finish. The same also applies with the wood on the cabinets. Don't scrub it too much. Just use dump microfiber clothing for the job. If you decide to use cleaning products from the store, read the instructions carefully to ensure you are using them in the right way.
Tip: Mild dishwashing liquid with warm water can be great for wooden cabinets.
Here's a simple breakdown of the recommended care for various cabinet materials:
Wood - The wood used in kitchen cabinets usually comes in different varieties. You can get maple, birch, and cherry. Wood cabinets will also be finished with a tough and clear sealant. In your routine cleaning, don't use any oil on the wood. Even if you want to camouflage scratches, try out wax or shoe polish.
Laminate is made using layers of Kraft paper combined with plastic. Stains on laminate can be easily removed using a paste of baking soda and water. However, don't rub after applying the baking soda. Just let it sit for a while on the stain and wipe with a dry cloth. Baking soda is abrasive, so using it to rub on stains may lead to additional dents.
Stainless Steel cabinets are quite popular too. There are a few commercial stainless steel sprays that can be used to remove watermarks. Make sure you find them.
Keeping your kitchen cabinets sparkling is easy. All you need is an effective routine maintenance. The simple guide above should help you out so don't hesitate to give it a try.
Feel like your cabinets could use an update? Find out how much it costs in your area today!
Keep Reading:
7 Modern Lighting Fixtures Ideas For Your Home
Why Open Shelves Will Revolutionize Your Kitchen
Don't Make These Mistakes When Painting Your Kitchen Cabinets