Imagine what a wonderful experience it would be to just lounge about in your garden and have a DIY bar right where you're sitting. If you have a pool, then you most definitely need an outdoor bar. If you don't, that should not stop you from making a DIY bar right on your patio or somewhere else in your backyard. You no longer have to go inside your home every single time you need to get a drink from your fridge. Enjoy the warm season that's coming along with an outdoor bar that you've built yourself! Try out these ideas and do it yourself:
Aquatic bars
Swim up bars
Tiki themes
Modern bars
Rustic designs
Round table style
Accompanying a grill
For the backyard firepit
The DIY outdoor bar ideas we have compiled for you below are not just convenient but they are also unique. You'll find them to be fun and easy to put together as well. There is no need for you to have a lot of contractor experience. All you need to do is to get your creative juices flowing and do it!
"Age appears to be best in four things; old wood best to burn, old wine to drink, old friends to trust, and old authors to read." - Francis Bacon
An Outdoor Murphy Bar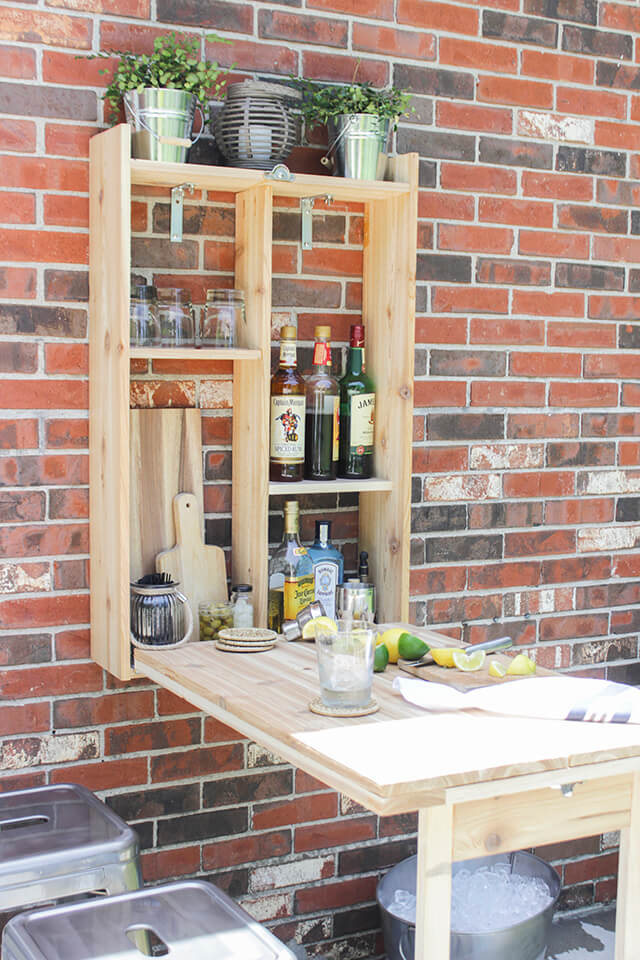 In the summertime, you can make use of a prep station for your barbecue or evening cocktails plus additional seating with this outdoor murphy bar. The things that you'll need are the following:
3 planks of 1x8 cedar board
3 planks of 1x6 cedar board
1 plank of 1x4 cedar board
Measuring tape
Wood clamps
Circular saw
Safety goggles
Wood glue
Electric drill (or screwdriver)
Speed-square
Hearing protection
Exterior 3" screws
Cedar is the ideal type of wood when it comes to outdoor furniture as it is bug and rot resistant. It's also strong, so you will have a Murphy bar that won't sag or warp over time.
Leaving cedar unstained will give it a weathered finish. As soon as you reach your local home improvement store, ask the attendant to give you cedar boards that are rough on one side and smooth on the other side.
Fold-Down Outdoor Bar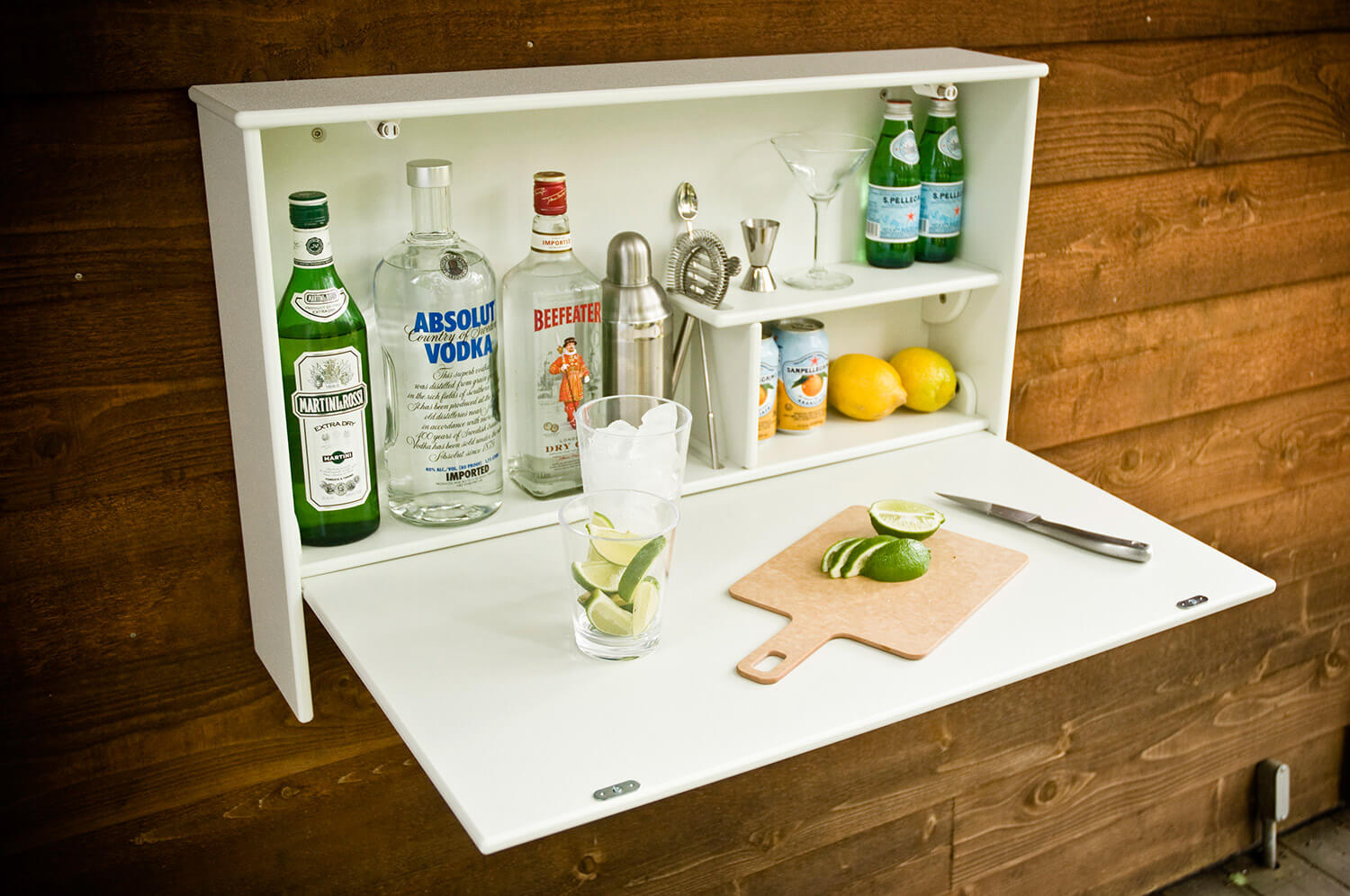 A fold-down outdoor bar is similar to that of a fold-down shelving. However, instead of holding pens, paper, and school supplies, your fold-down outdoor bar will hold your bottles, accessories, and glasses for an afternoon relaxation. This may need a bit of handy work and you'll need tools just like with the Murphy bar. Fortunately, once you get the hang of it, it'll be as easy as pie.
Wheelbarrow Cooler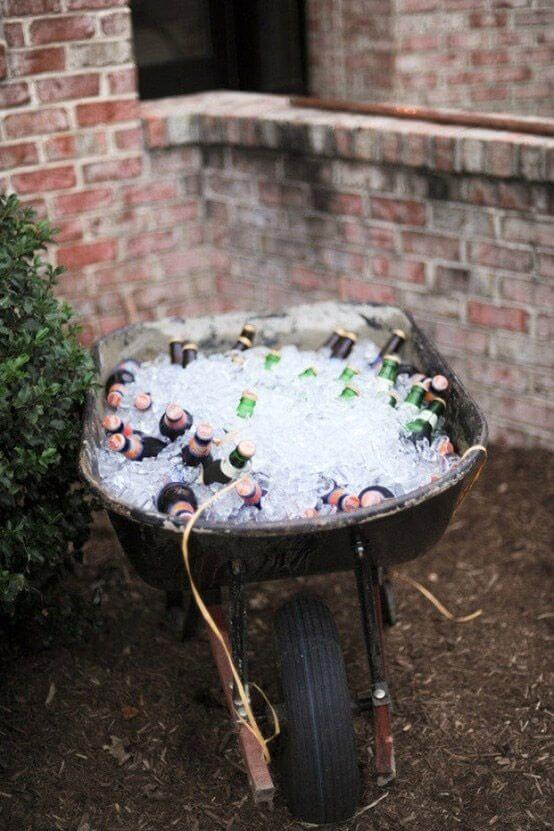 For this backyard landscaping idea, you'll need a wheelbarrow. Take it out whenever you plan to drink outdoors. Fill it up with ice so you can keep your bottles and drinks cold. This will act as your moveable ice bucket. Just remember, you need to line your wheelbarrow with plastic before adding the ice. This couldn't get any easier! Your friends will by dying to drink out of this in your front yard.
Upcycled Vintage Door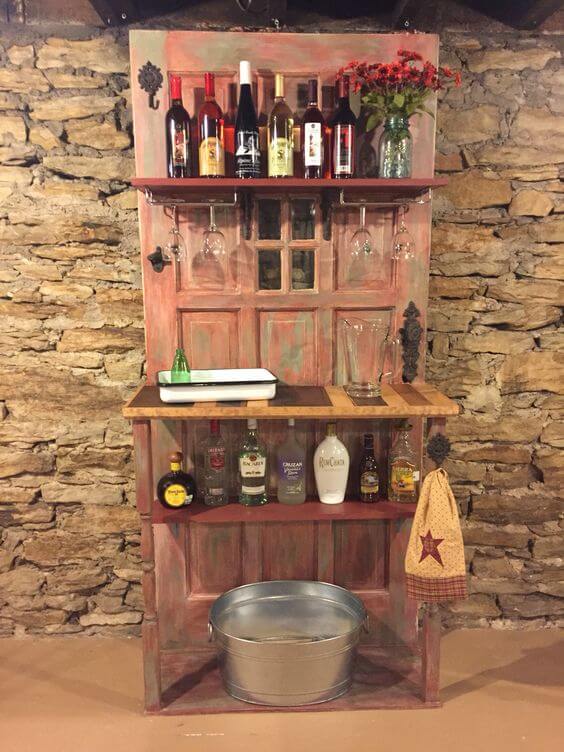 An old exterior door tends to keep its charm well after its useful days are well over. For this, you'd have to add shelves, a bottle opener, and vintage spindles. Put them all together and you will have a classy, unique backyard bar! You can even use it to impress your neighbors and friends.
Pallet Outdoor Bar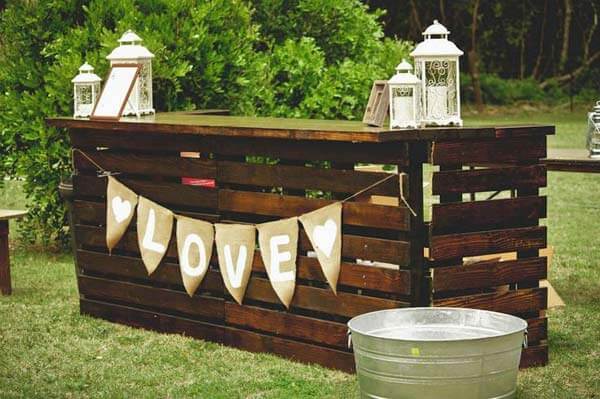 The humble yet versatile pallet will see a renewed life if you turn it into a bar for your outdoor party. Just make sure that you have it finished. Also, it will be best if you avoid pallets that are treated chemically. To do so, look for the 'HT' mark, which stands for 'heat-treated' anywhere in the pallets.
Ladder Bar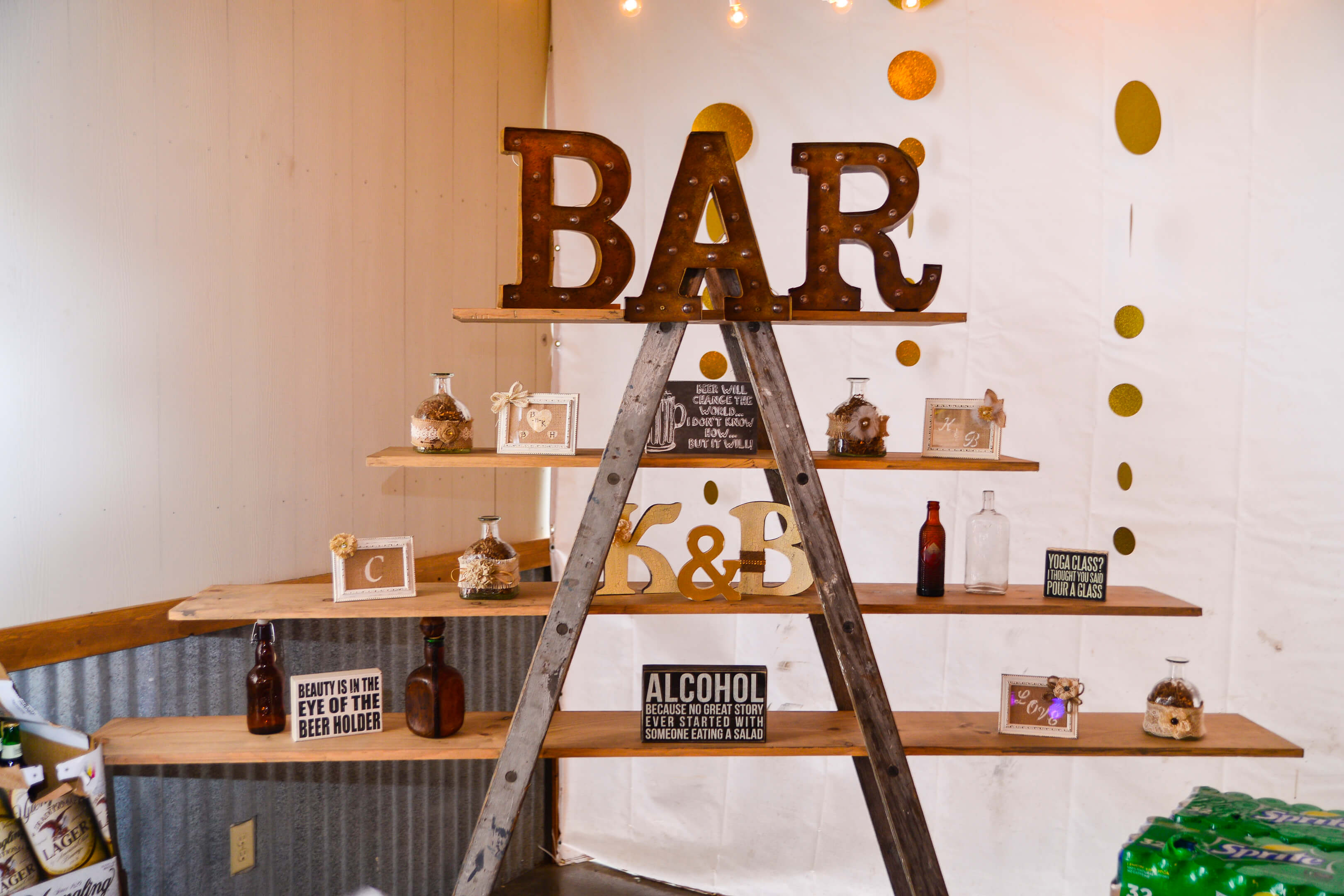 You can have a fun outdoor bar by taking out a wood ladder and laying boards on the rungs to make shelves. Once done, all you need to do is set up an array of drinks and glasses. Now you're all set to enjoy your charming and simple outdoor bar. It goes perfect with other DIY projects.
Country Bar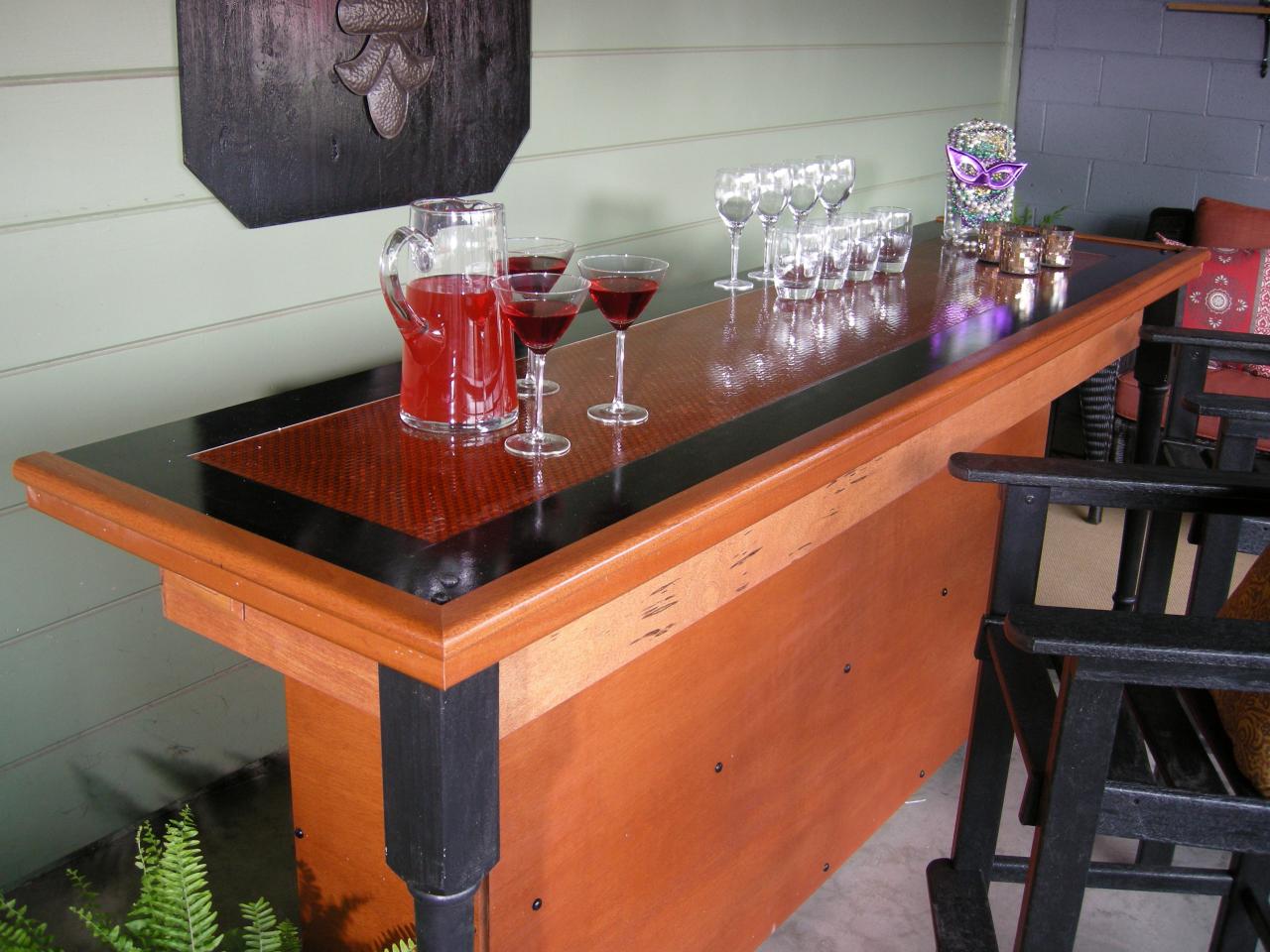 This one takes little to no skill at all. To DIY, take out the old door that's just lying in the garage to rot. Then, lay it across bales of hay or straw. This is very easy to do yourself and easy to clean up as well!