A fence is an important part of your outdoors. Fences are built to provide privacy and security but they can go a long way toward enhancing your landscape too. There are numerous fence designs in the market. Although each of these designs offers a unique charm and beauty, you can still add to the magic by using simple decorations.
To help you out, we have created a simple list of top decorating ideas for your fence.
Old Purses and Beach Bags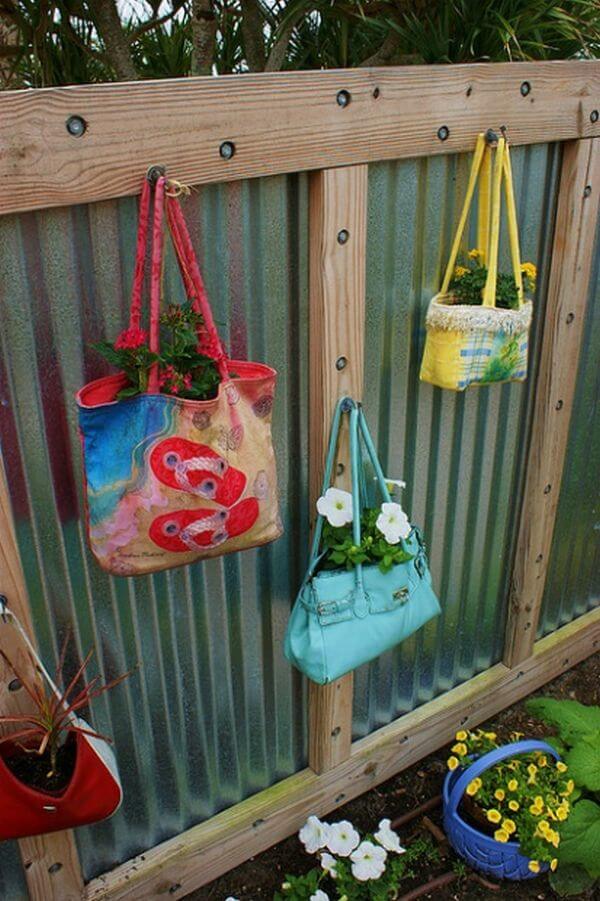 In case you have a few old purses at home, you can use them to decorate your fence and add a sense of life to it. The purses will act as hanging plant pots. Fill them with some soil and plant a few colorful plants. If you can get some flowers, it will be even more magical. Unless you are dealing with a normal hedge, Purses with plants in them will complement the beauty of any fence you have.
You can use:
Old purses
Tote bags
Beach bags
Reusable shopping bags
Or any old bags you have
Painted Cans
Color is always a great addition to any fence. You can achieve this by using painted cans. The cans can be painted whatever color you want. However, we do often recommend bright colors. Once the cans are ready, you can hang them strategically at different parts of the fence. Don't put them too close to each other. Plant a few flowers in each can and let the fence blossom with them.
Glass Jars and Candle Magic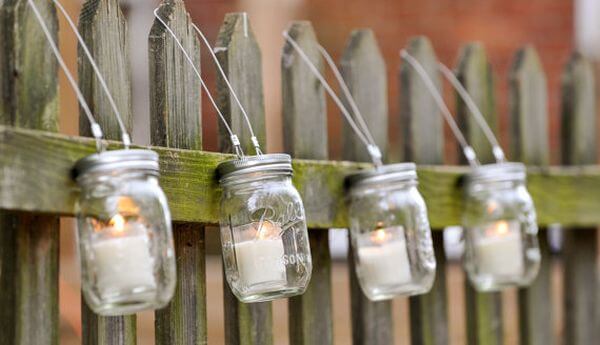 In case you're looking to fully transform your landscape, you can also install simple glass jars on the fence filled with wax for candles. Mason jars, in particular, will be ideal. The jars need to be fully transparent. Make simple candles and then hang them on different parts of your fence. Light the candles anytime so that they can set the ambiance for the ultimate outdoor experience.
Hanging Baskets
Hanging baskets are far more common in fence décor and why not? They do deliver additional charm and class to any home. The great thing is that baskets come in various designs. You can choose something classy and inexpensive if you're on a budget. The baskets are hung on the fence and have a few plants planted in them. If you want to really achieve something special with these baskets, try to diversify the plants that go into each basket. For example, you can combine colorful flowers with climbing lush green options too.
Garden for a Wrought Iron Fence
Wrought iron fences are very popular. Most homeowners choose wrought iron mostly because of the strength and durability that it offers. However, in case you don't like the lifeless nature of these fences, you can add a sense of life by planting a garden along the fence. Wrought iron fences will have raised spaces just above the ground. These spaces can be filled with soil and a simple fence garden can be created from there. If you get it right, you will love this combination. Black wrought iron fence complemented with green plants and beautiful flowers will completely change your landscape.
Plant Shelves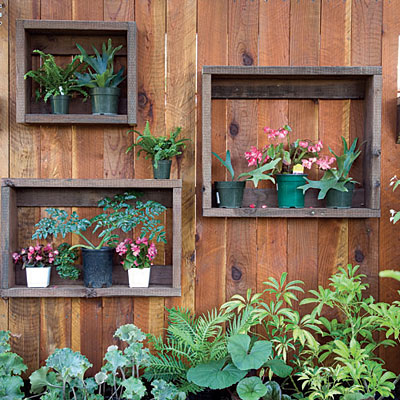 This idea will mostly apply to wooden fences but even then it's a great way to transform your fence for the better. First, you will need to build shelves on the fence. You can do this on the inside. It's often better that way. The shelves will then be used to hold plant pots. The rule of thumb is to make the shelves big enough to hold two or three small pots at once. If the pots are colorful, it will be even better. It's a simple and creative decoration that really works.
Adding color, creativity, and life to your outdoor fence is easy. All you need is a few DIY décor ideas and that's it. The simple options above should come handy for any homeowner. They are simple and relatively affordable. You can also check out a few other creative ideas online.
Need a helping hand to make your fence look its best? Call a pro today to get a free estimate!
Keep Reading: