Is there a Rover or Fido in your clan? Even if you allow your pet to enjoy the soft spots all over your home, there's a huge chance that your canine is craving for a haven that it can call its own. Regardless of your DIY skills, what we have below are easy and cheap ideas on how you can create a bed for dog.
"Money can buy you a fine dog, but only love can make him wag his tail." - Kinky Friedman
There are many ways you can go about each project. Simply choose the DIY idea that you feel you're capable of completing. You can also choose the style that will match your taste and the décor of your home.
Scroll down as we guarantee that you'll get inspiration to devise a divan bed for your dog on your own!
A Vintage Suitcase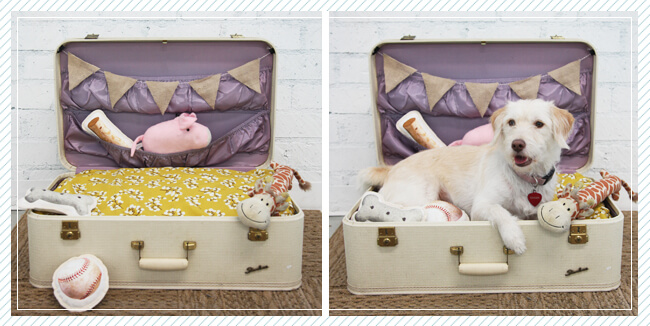 When you are roaming through your local thrift store, you'll most likely find some vintage suitcases. We assume that you love their look, but you just can't see yourself traveling with one. Fortunately, we have a reason for you to finally grab that very tempting valise: with just a bit of work, you will be able to transform it into your dog's bed! Make sure you add in a pillow or two so your pet will be comfortable in its new spot.
Related: 11 Ways Dogs Tell You They Love You
A Maison Moderne
This DIY project is perfect for those who have intermediate woodworking experience. Build the simplest plywood box you can make. Next, just attach the legs. You can buy them premade at any home center. To finish off, apply one or two coats of paint. You can choose any bold hue that you want. Add a pillow and you're done!
A Patchwork Pillow
Have you noticed that your pooch likes wearing sweaters during winter walks? If yes, then it will definitely be cozy on a patchwork dog bed that you stitched on your own from your fuzzy old sweaters! If you choose to make this dog bed, it will be an excellent way for you to save your old clothing from being dumped in a landfill. It's also a great practice for you if you are new to needles and threads.
Create a Crate Bed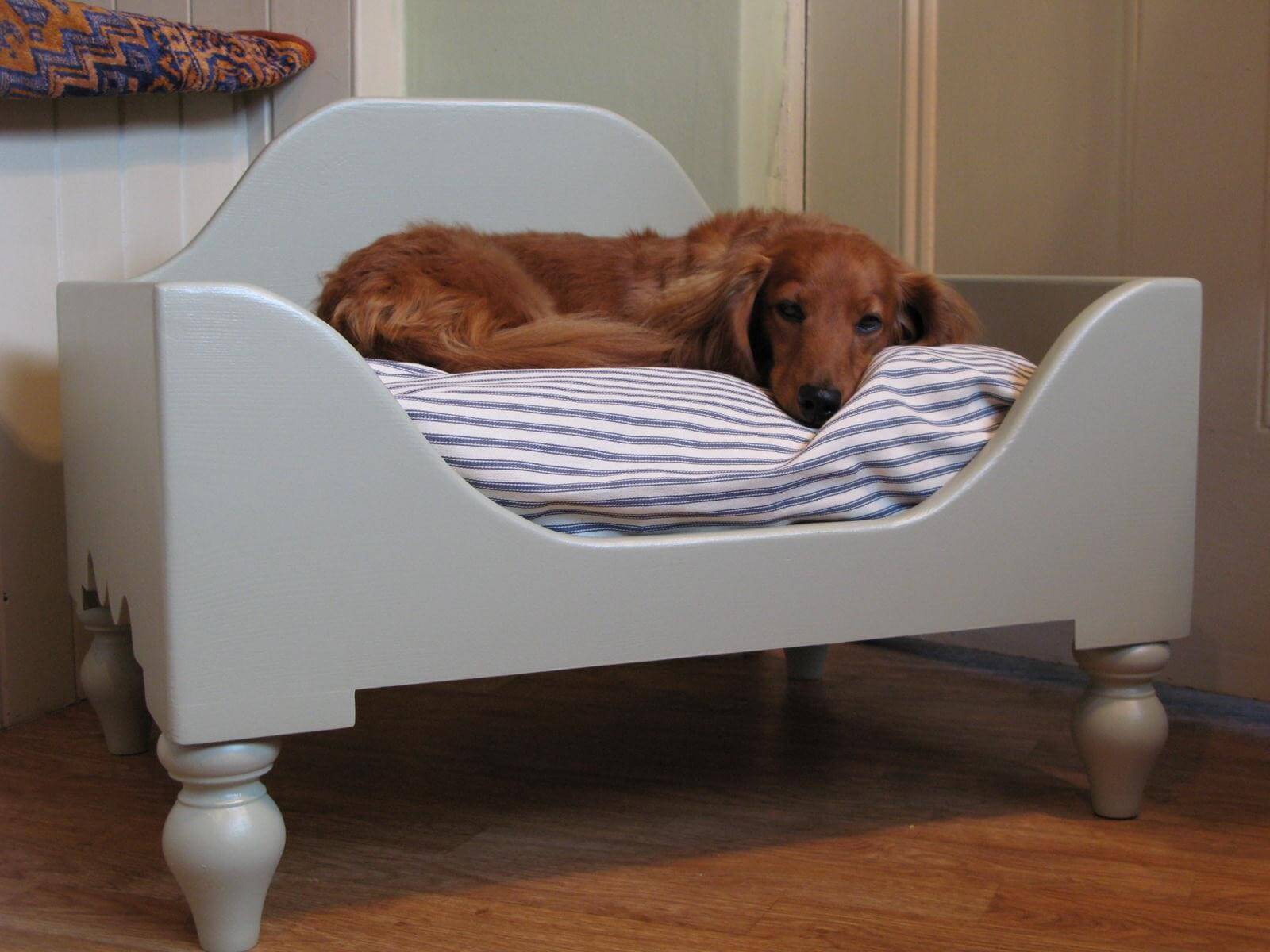 Scrap wood offers a blank canvas to those who are creative DIYers. A dog bed is among the many objects that you can make from leftover 1x4s. Just like what was done in the picture, the result will be a rustic-looking crate that's not just stylish but also handily portable because of the casters. You can paint the bed with your favorite colors or decorate it however you like.
Little Red Wagon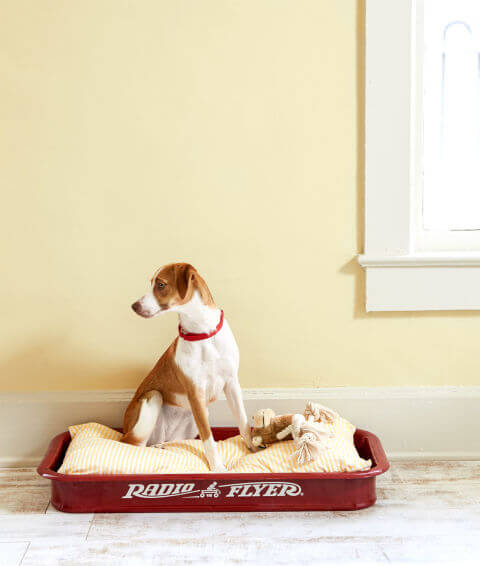 For this, you'll have to remove a wagon's wheels and axles. Then, get a pillow insert and cover it with a piece of fabric that's friendly for your dog. Place it in the wagon's bed. To finish, just add adhesive furniture pads at the bottom in order to prevent scratching.
Related: 6 Homemade Dog Treats to Celebrate National Dog Biscuit Day
Converted TV Console
Do you remember the time when TVs were considered as nice furniture pieces? Check if you have a retro unit that's collecting dust in your basement. If you don't have one and you are lucky enough, you will find one for sale in your local thrift store. Once you get a hold of it, rip out the electronic guts of the console. Be careful so that you don't damage the picture tube. Paint it with your favorite color and you got yourself a new bed for your dog!
A Wine Barrel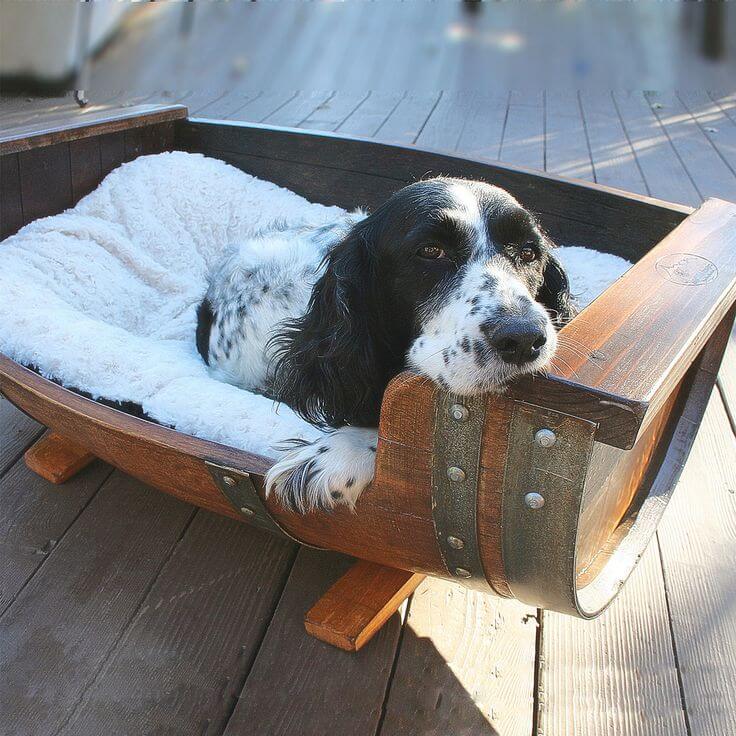 Who would have thought that you can convert a full sized or just half-sized wine barrel into a stunning DIY dog bed? This dog bed looks just like fine furniture. If you don't know where to get wine barrels, you don't have to worry because they are available at the local home improvement stores. If there's none, then just order online. In order for you to maximize the dog bed's aesthetic appeal, choose a stain which is similar to the color of the wooden furniture that you have in your home.
Related: Dogscaping - How to Landscape the Perfect Dog-Friendly Yard
Like these ideas? Which ones are you going to make? Let us know in the comments below!