Summer is officially here which means it's time to show off your deck with beautiful landscaping and outdoor decor choices. There's nothing better than hanging out with the family on your deck with a nice cold drink and maybe some barbecue – as long as you have a deck, it can become your new favorite place!
So let's take the necessary steps to make yours more comfortable, practical, and Instagram-worthy than ever before. Here are a few helpful deck decorating ideas to help get you started!
Comfort is everything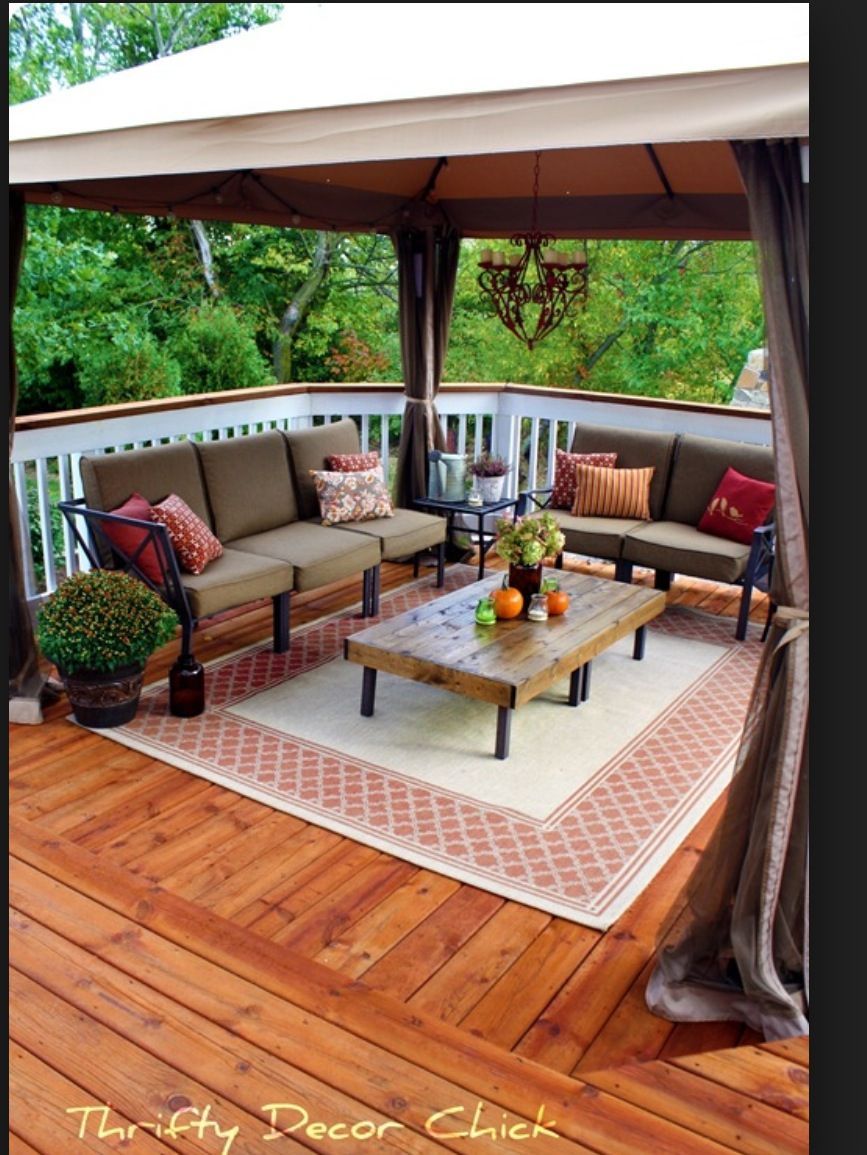 The idea is to make your deck the perfect summer hangout spot, so don't hesitate to make it as comfortable as possible. Add some furniture, a nice rug, a center table… before you know it, you'll have an outdoors living room!
Be sure to add benches in general to your deck furniture ideas – they are massively useful!
Make it intimate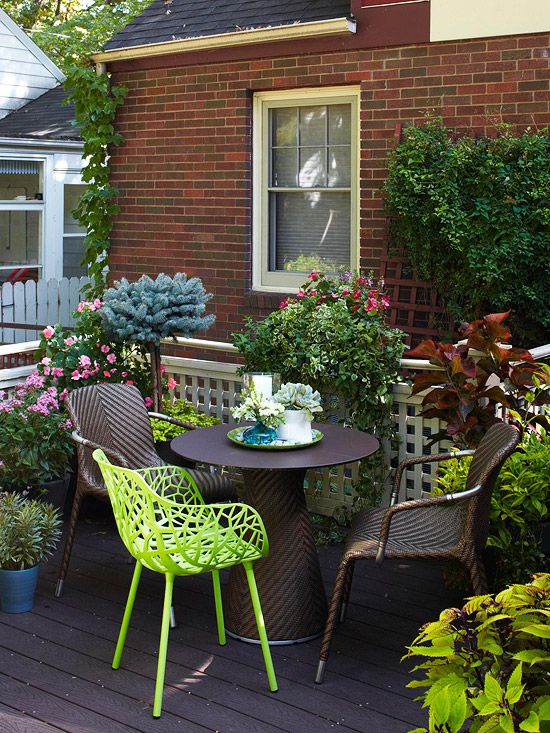 We often focus on going big as if that's the only option, but you can also make it small and intimate. A smaller deck can be turned into a personal space where you can surround yourself with nature while enjoying some privacy.
Use Wooden Lattice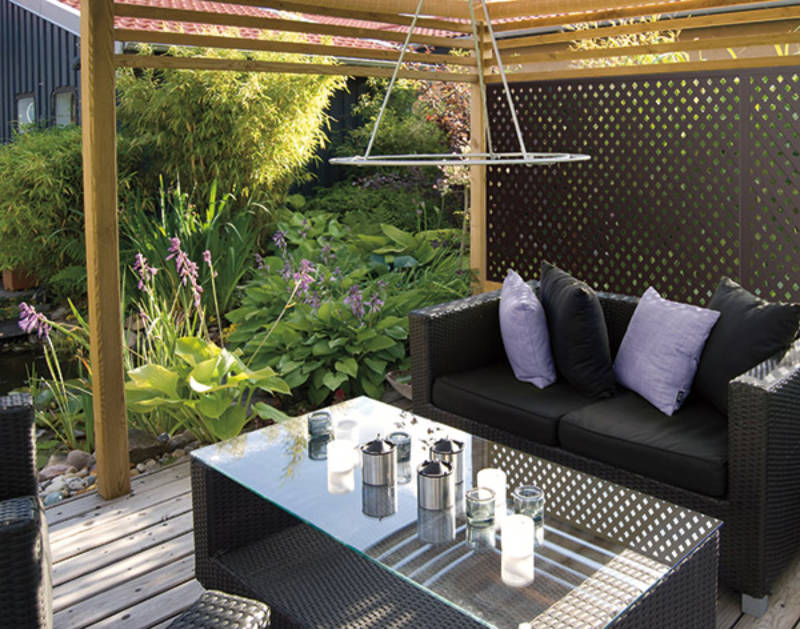 A wooden lattice is a great way to separate one part of your deck from another, create some shade, and they also work as privacy screens as well – especially when combined with some vines and greenery.
Grow some climbing roses or clematis and pretty soon you'll have a beautiful lattice backdrop for Instagram pics!
Add lighting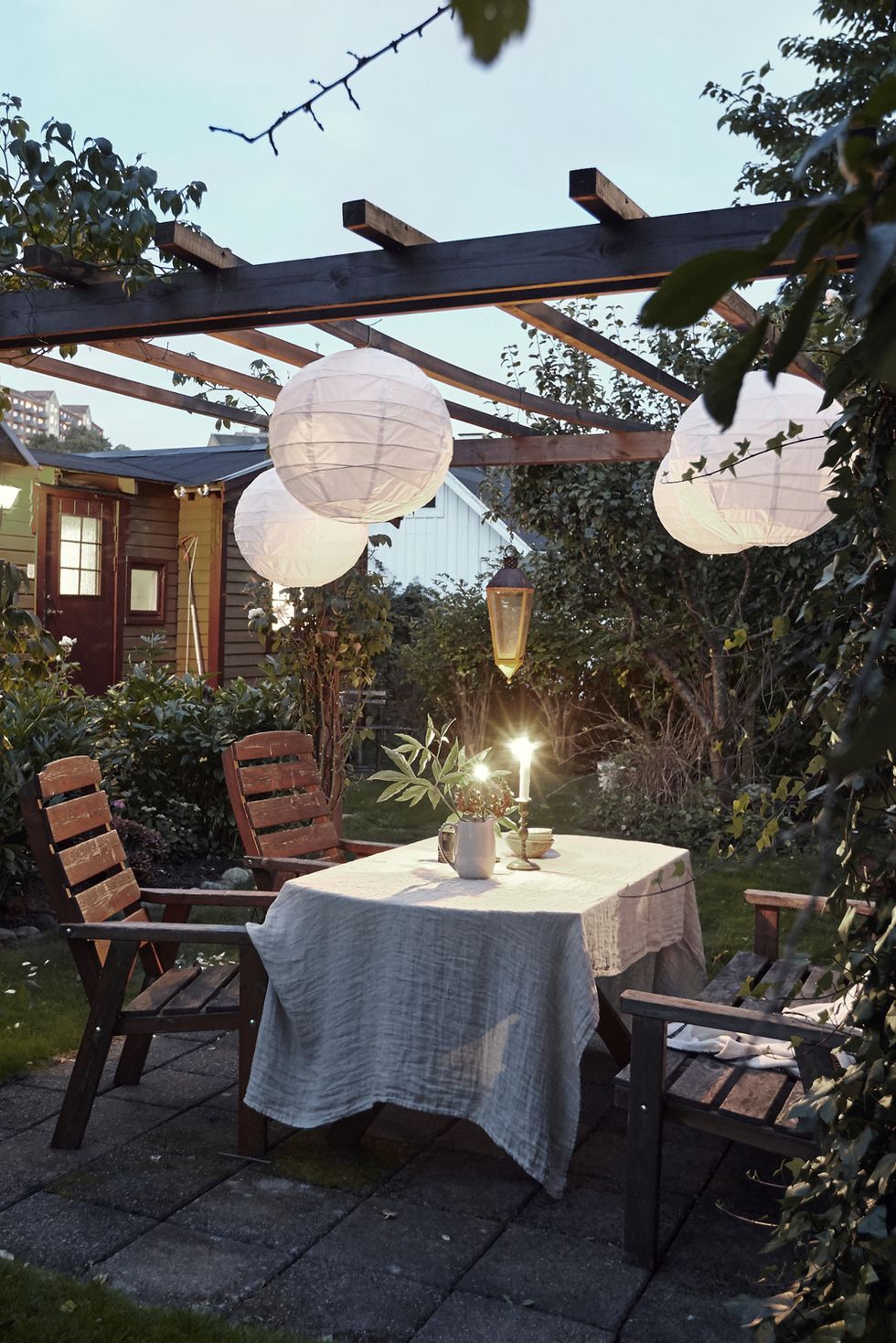 The deck isn't just a daytime feature, it can and most definitely will be used at night, which means you should invest in some decent lighting. Installing the usual bulbs is good enough for practical purposes, but don't be afraid to get creative and beautify your lighting with string lights or paper lanterns!
Add Water Features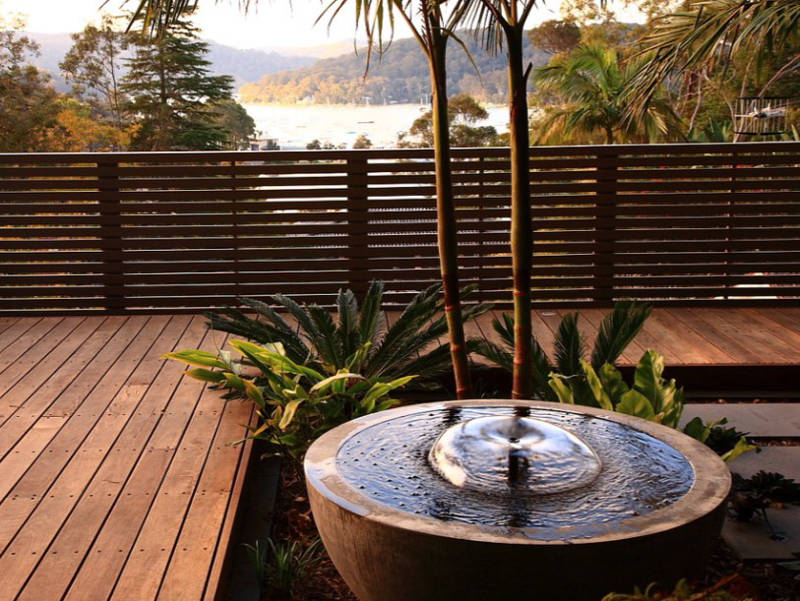 If you can, add a water feature to your deck and you'll have a complete Zen garden. This is one of the more creative deck design ideas, because there are dozens of different ways to go about it.
If a fairy tale worthy waterfall isn't possible, you can do well with something smaller to simply complement your garden.
Outdoor storage
If you want an easy peasy way to add storage to your outdoor setting without making additions to your deck or having to use a shed, consider a simple bench with built-in storage. It makes it very practical to keep some basic outdoor utilities always accessible and it's perfect if you're looking for small deck decorating ideas.
Create a color scheme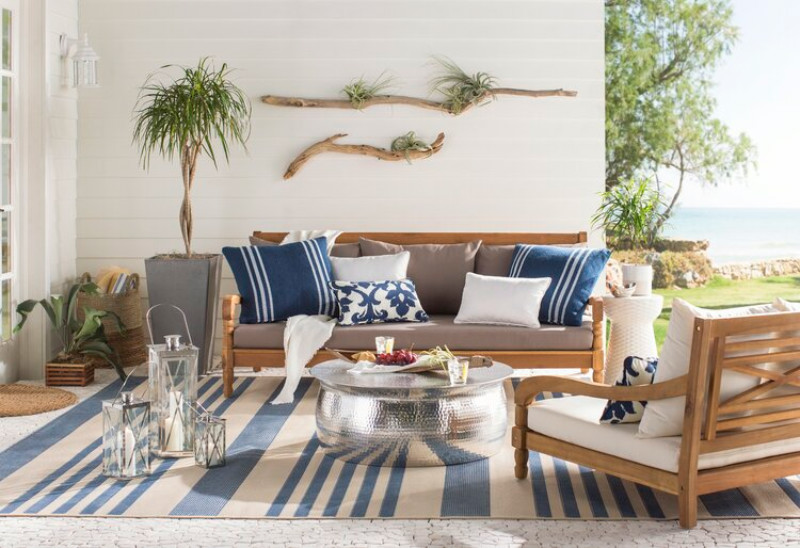 Pick outdoor furniture and put it in a central spot to draw the eye. We love the clean lines offered by this relaxing outdoor furniture set – the colors match well with the rug and the outdoor paint of the house, making for a nice color palette.
Most backyard deck ideas will have some sort of visual consistency, and going for a specific palette is a good way to start.
Get Some Comfortable Pillows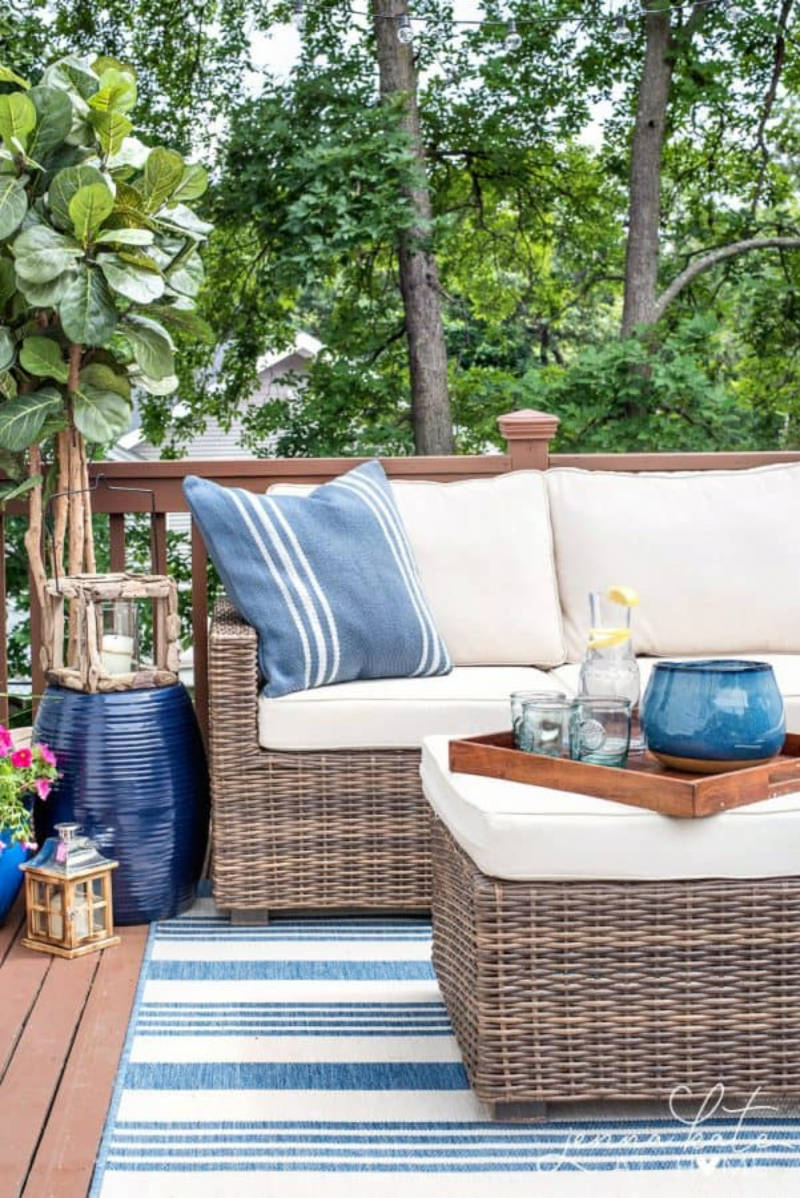 These pillows are perfect for lounging on the deck, and they perfectly complement the it's overall outdoor decor scheme. It's important to always use outdoor fabrics with a washable protectant to prevent stains and make sure they remain as weather-resistant as possible.
But to better protect your pillows, you can use the aforementioned storage bench to keep them stored away when you're not using them, but still have them at arm's reach when you need!
Create Privacy with Green Planters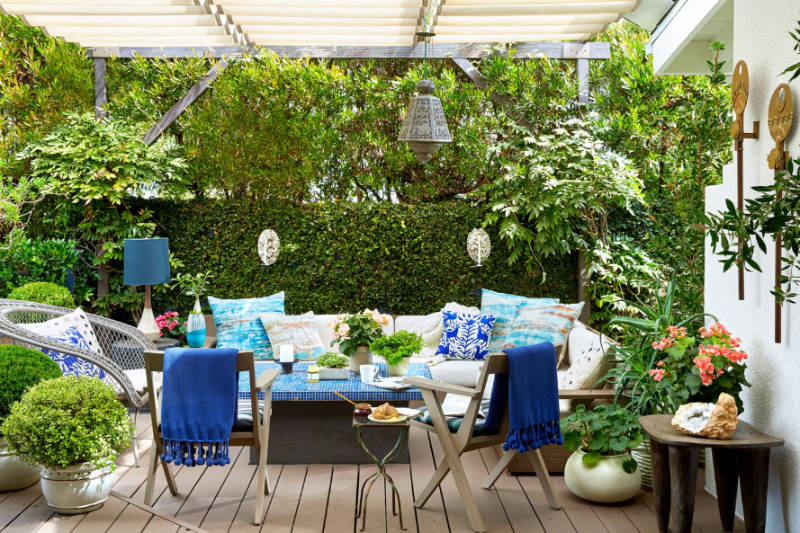 Create your own privacy screen by using tons of greenery. The lattice panels we mentioned before are also great for this, since you can intertwine vines or hang potted plants from them, as well as container gardens.
And speaking of which…
Build a Container Garden
Container gardens are really easy to handle, making them perfect for beginners, and yet they add a unique look to your outdoor space. Start with a few and soon you'll have what resembles a luscious forest decorating your deck!
---
Request a free quote for deck repairing, staining or painting so you can enjoy it safely this season!