Color is an important part of what makes a home appealing and paint is by far the biggest influence on the look and feel of your home – and that goes for interiors and exteriors.
While there's always a lot of emphasis on home interiors, many homeowners these days are also looking at ways to give the exterior of their homes an elegant touch.
And as you can imagine, paint color plays a big part. Sadly, not every paint combination works. In fact, if you want your home to pop from the outside, you may need to cleverly combine some colors to make something special.
To get your started, we have some incredible suggestions below – take these as inspiration to create your own color palettes!
1. Ivory Combined with White and Aqua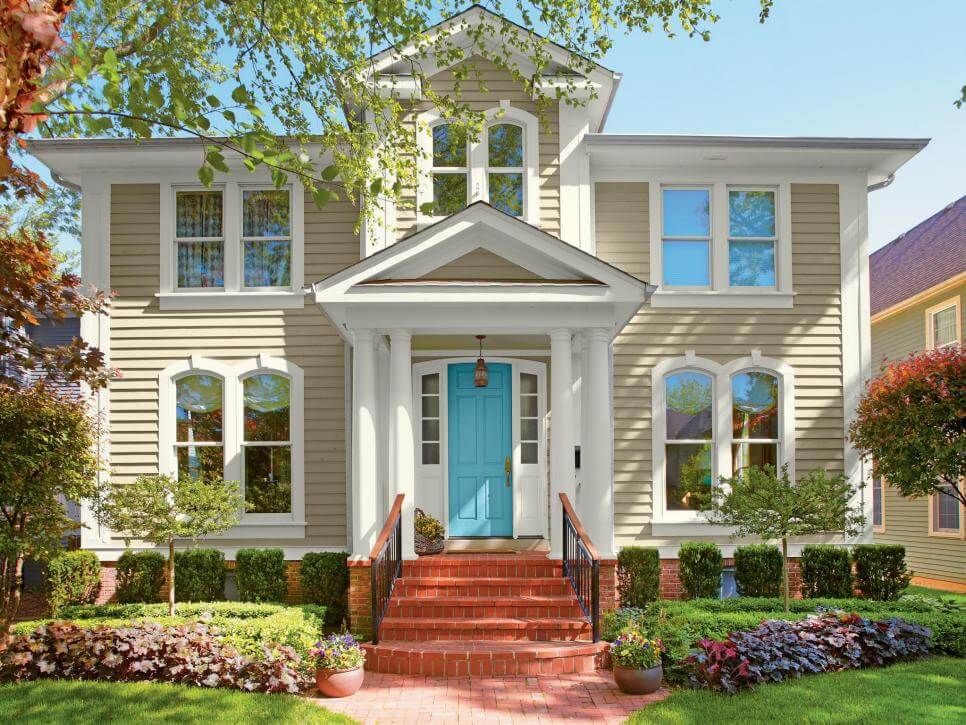 One key goal when it comes to exterior décor is to make your house stand out from its surroundings. White will achieve that. In fact, the color white is by far one of the best exterior house paint colors because it covers a wide range of moods.
But you can bring out the elegant splendor of white by combining it with touches of ivory and aqua. These additional palettes provide incredible accent value that adds character to the white outlines covering the entire home.
2. Black and White with Ruby Red
As we have already noted above, white is one of the most popular exterior house colors so it will be the foundation palette for most homes. This is why most homes tend to look better with light paint rather than dark ones (but there's room for those too).
It's how you accentuate it that actually matters. For those of you looking for a more traditional style, consider combining the splendor of white with the mystery of black. For example, paint all the exterior walls white but touch up the windows and the door frames black for an instant dramatic accent.
To finish up this design, you can complete your front door with a ruby red shade – a bold color choice to accent the neutral white and black.
3. White with Gray and Dove Accents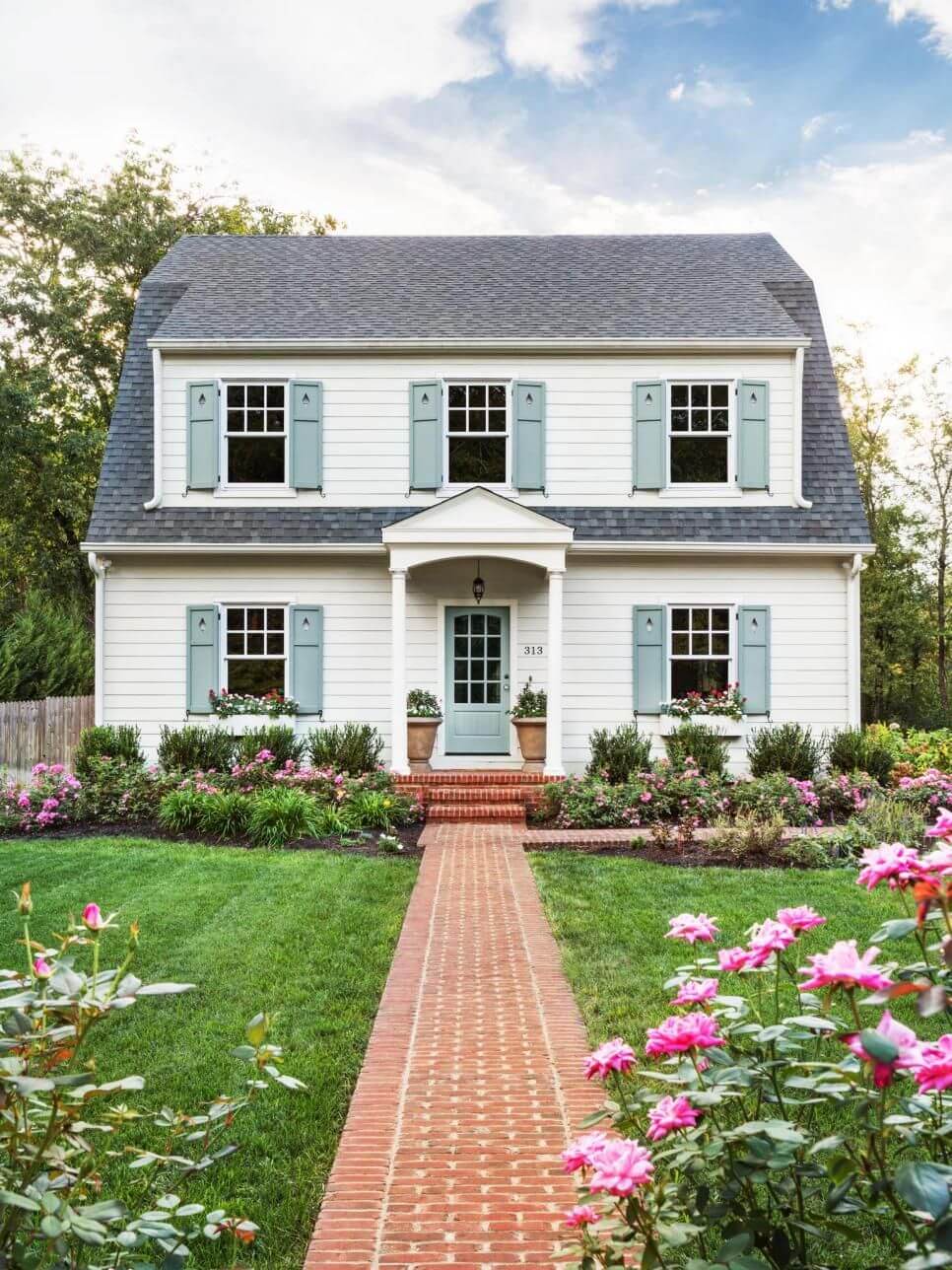 Another way to make the white foundation pop is to combine it with grey and dove accents. Just like black, gray has a mysterious look about and its neutral appeal will help to balance out the bold white foundation.
Consider applying a shade of grey along the windows and of course on the fascia boards if possible. The dove would then go on doors. In case you are considering having a few plant pots along the entryway, match them up with the door colors as well.
4. Deep Sea Blue with Touches of White and Red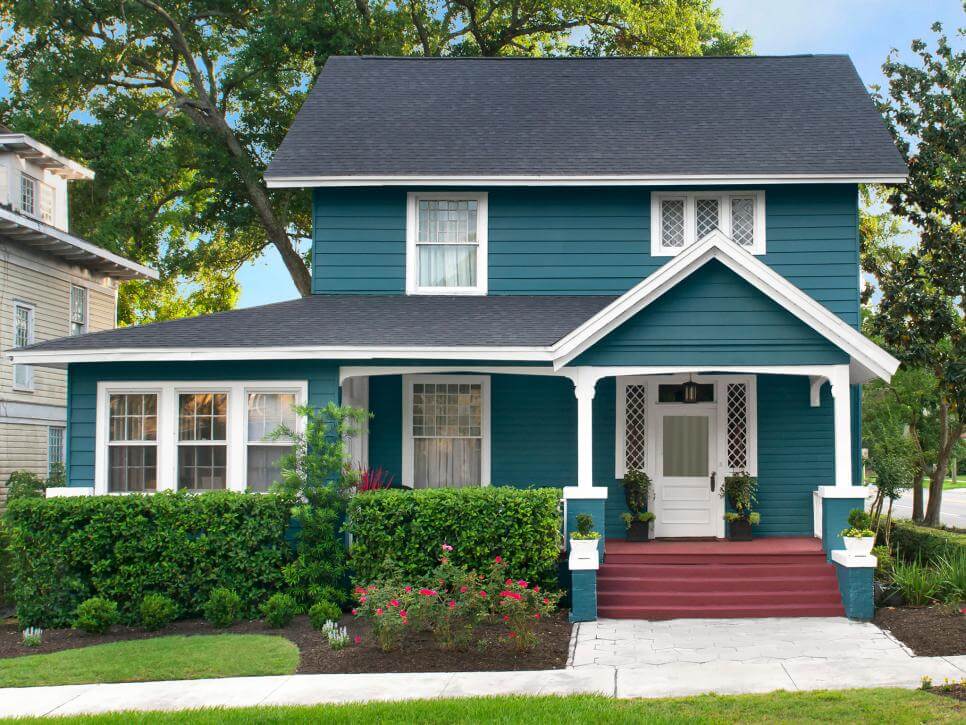 So, what if you don't want to use white as the foundational palette for your home exterior? Well, no need to worry, there are options to explore. Start with a deep blue palette to cover all the walls, which already makes for a different and bold choice. You can then accentuate it with touches of white along the windows and the door to accent the outlines of your home.
The white will also look great along the fascia boards as well. But to create the right texture, consider finishing up the entryway steps with some dark red, which really brings the look to life!
5. Mossy Green with Clay and White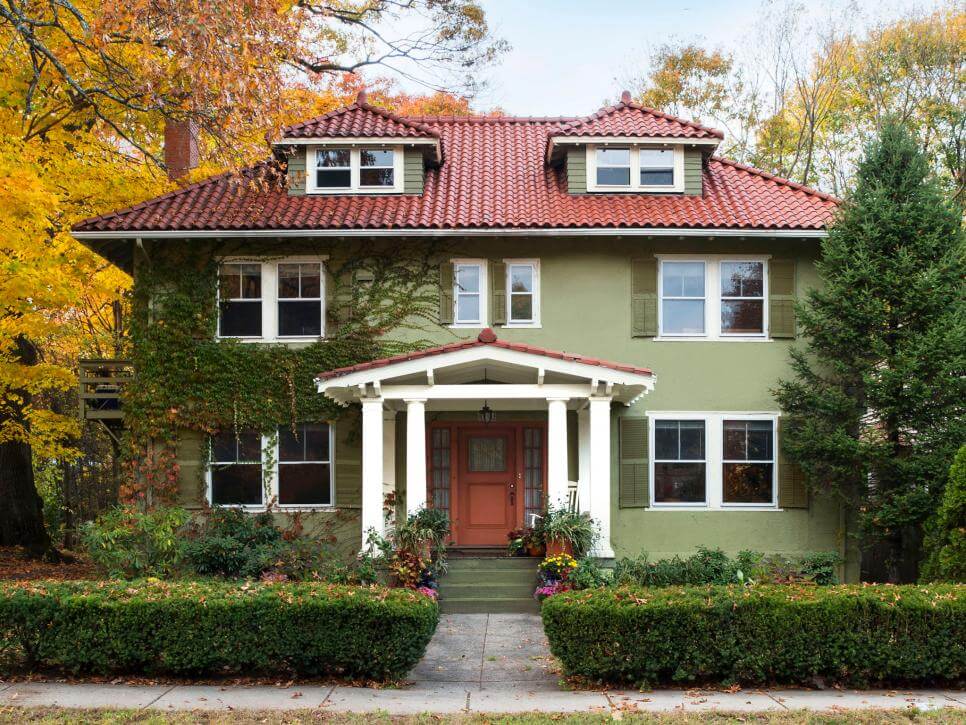 Mossy green could also be a perfect foundational palette and a great alternative to white. In this design, the green will dominate exterior walls, making it feel at home with the trees surrounding the property. But its beauty becomes more evident when it's accentuated with white along the windows and the fascia boards.
Finish up the design with a clay finish on the roof and of course on the front door. This understated design works best for people looking for that minimalist and low key exterior design. It's one of the best exterior house colors ideas.
Giving your home that perfect exterior look doesn't take a lot of work, just some experimenting with the right ideas. With the right paint combination, you can achieve this goal easily. While the options above are highly recommended, be sure to do more research until you find something that works for you.
Thinking of painting your home's exterior? Ask a professional painter for free quotes in your area today!