Traditional and unique farmhouse kitchens are making a huge comeback. Over the last few years, we have seen them in modern homes and it's not hard to see why. They come with a unique touch of style and timeless appeal that will give any house the perfect decor uplift. With their simple lines, dramatic contrasting details, and cool neutrals, farmhouse-inspired kitchens have it all.
Well, in case you want to bring this farmhouse appeal to your home, starting off with the kitchen backsplash is a great idea.
Here are some ideas that may help:
Clean and Crisp White Wash Kitchen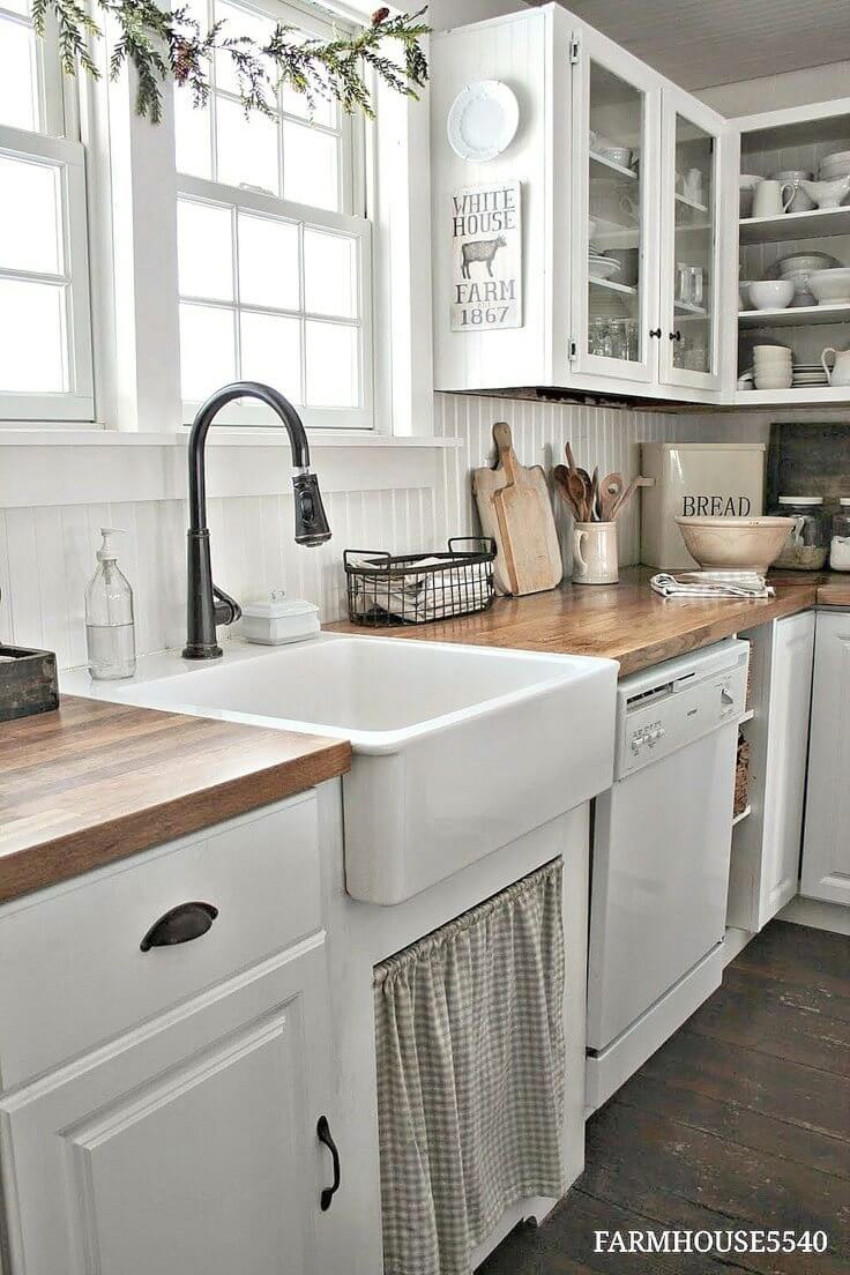 It is possible to get a modern vibe even in a traditional kitchen design. This crisp white wash does exactly that, but it's not the color alone that makes it a great choice. Simple design elements also work well to bring out the appeal.
Adding a butcher block countertop, for example, should bring the farmhouse-inspired theme. A lavender garland draping from the windows should also be considered. Instead of going for the traditional tiling on the backsplash, a wooden look is chosen to great effect.
Exposed Brick with Accentuating Copper Elements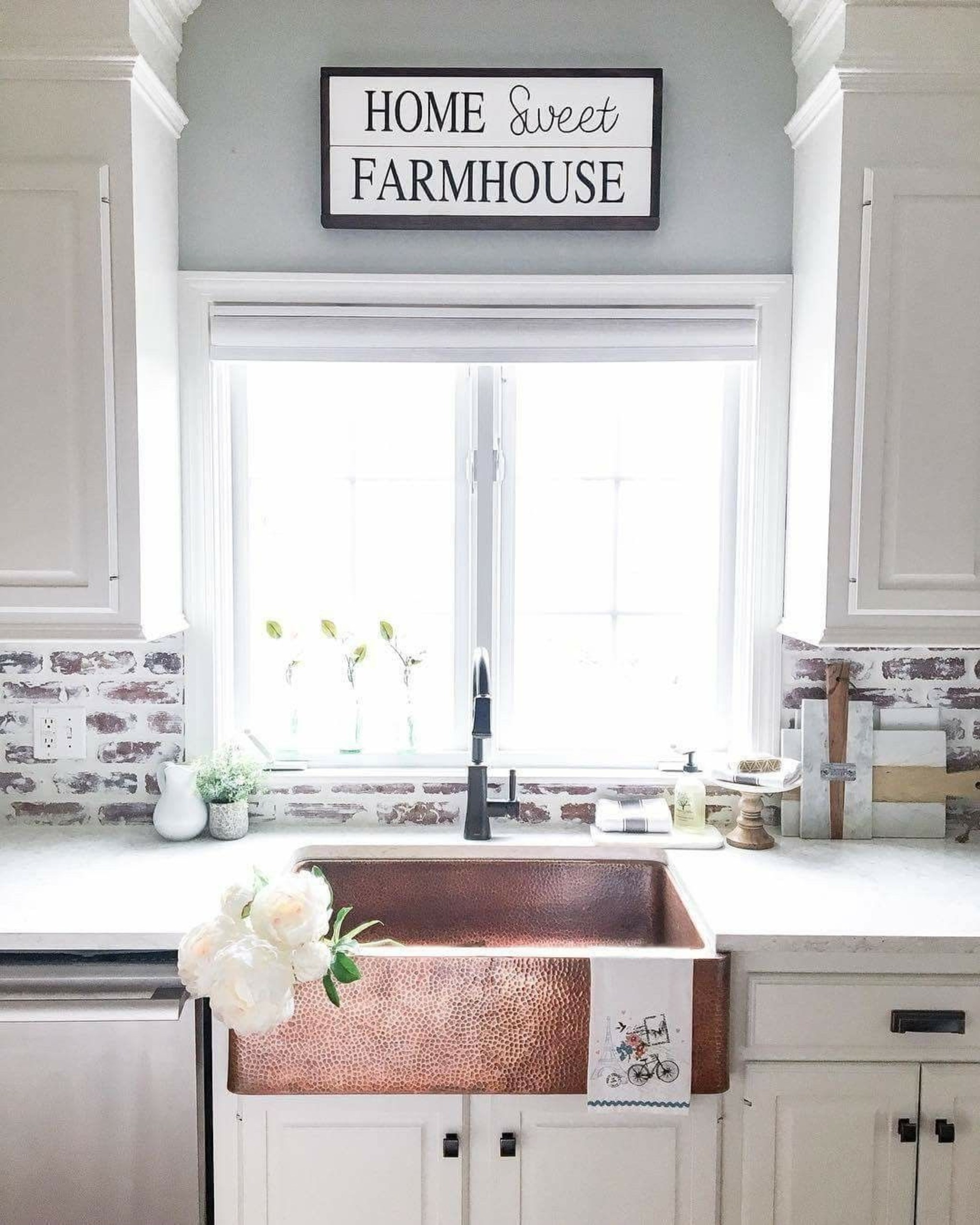 You can also add some dramatic appeal with a copper sink to the overall design. The sink is the perfect focal point that draws the attention of anyone that walks into the room. Simple white cabinetry and dark hardware are also used to maintain a farmhouse style theme. The combination of hammered copper sink and the exposed brick backsplash was a great surprise.
Farmhouse Details Combined with Traditional Elements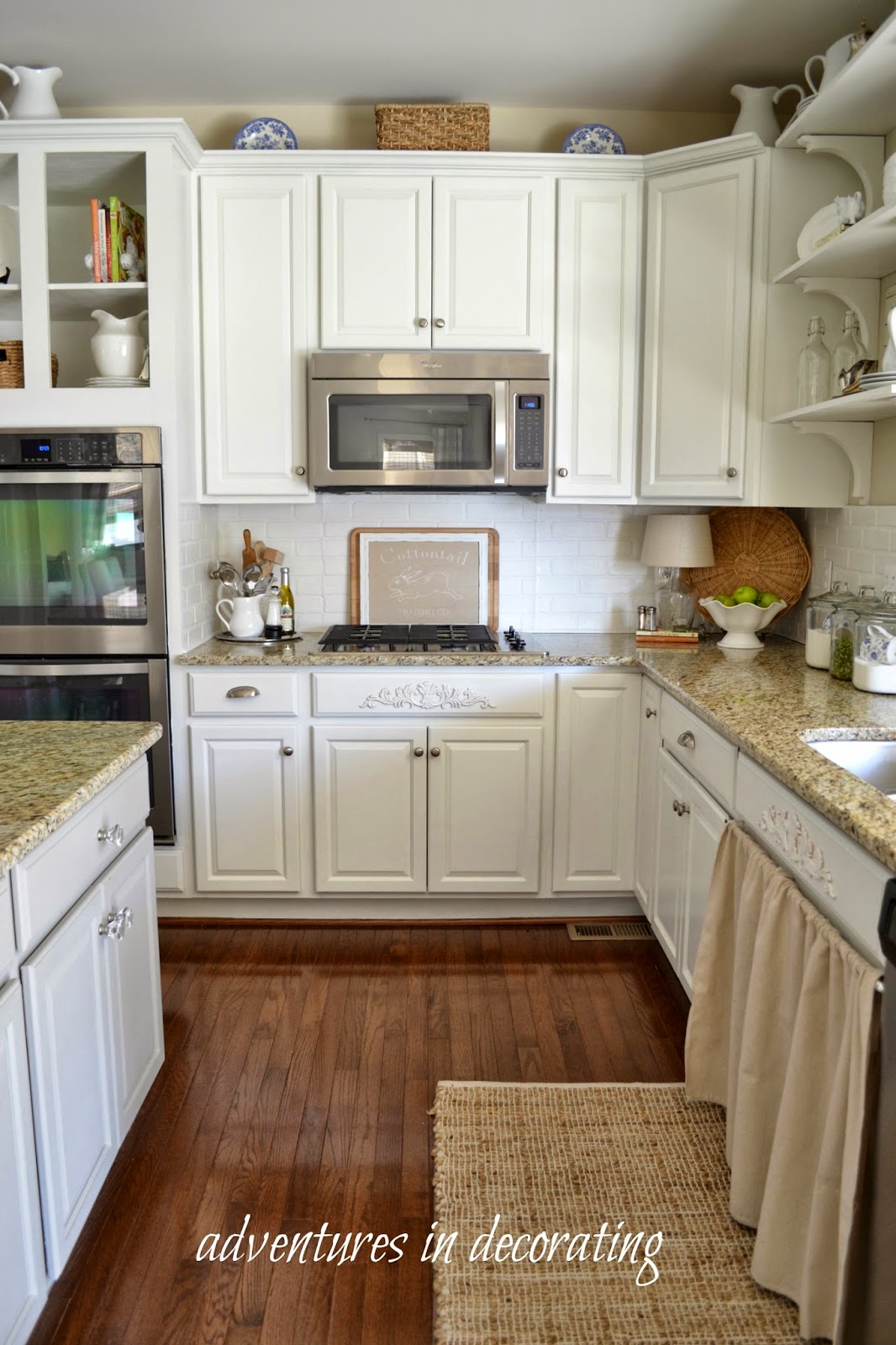 Versatile subway tiles make up much of the class in this design, and these traditional tiles have been used in the backsplash for this kitchen. But you will also notice other subtle traditional elements including the applique below the stove and the incredibly beautiful tan granite countertops.
Tip: Exposed plates and pitchers and a distressed wooden sign work well to maintain the farmhouse theme perfectly.
Writing on the Wall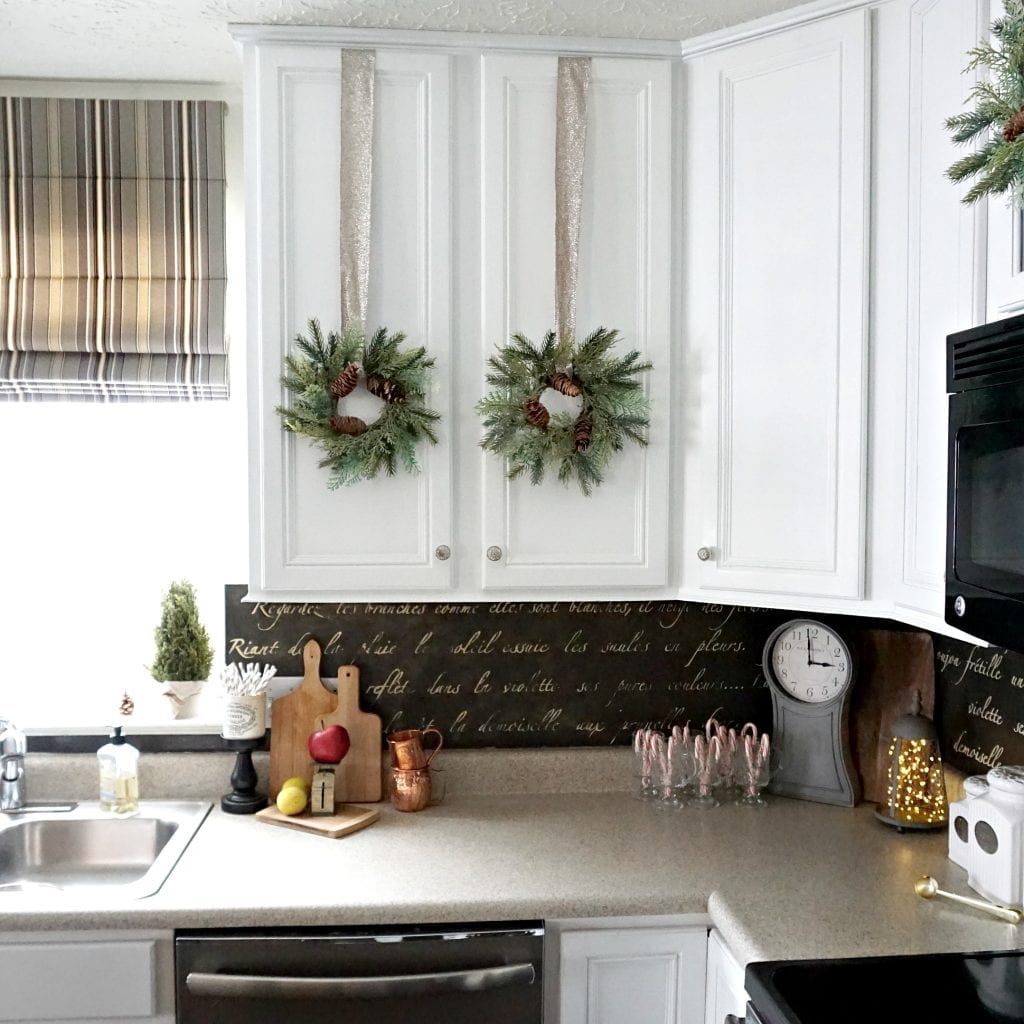 You can actually make your kitchen unique using a simple stencil. Writing on the backsplash is a good idea and you are free to write anything you want. Whether it's a favorite poem or a song, anything goes.
Using stencils to add a few words on the backsplash may not be the first thought that comes to mind when you are thinking about kitchen decor, but it looks like something that can go a long way in giving your home some level of personalized character.
Farmhouse Design with a Fresh Approach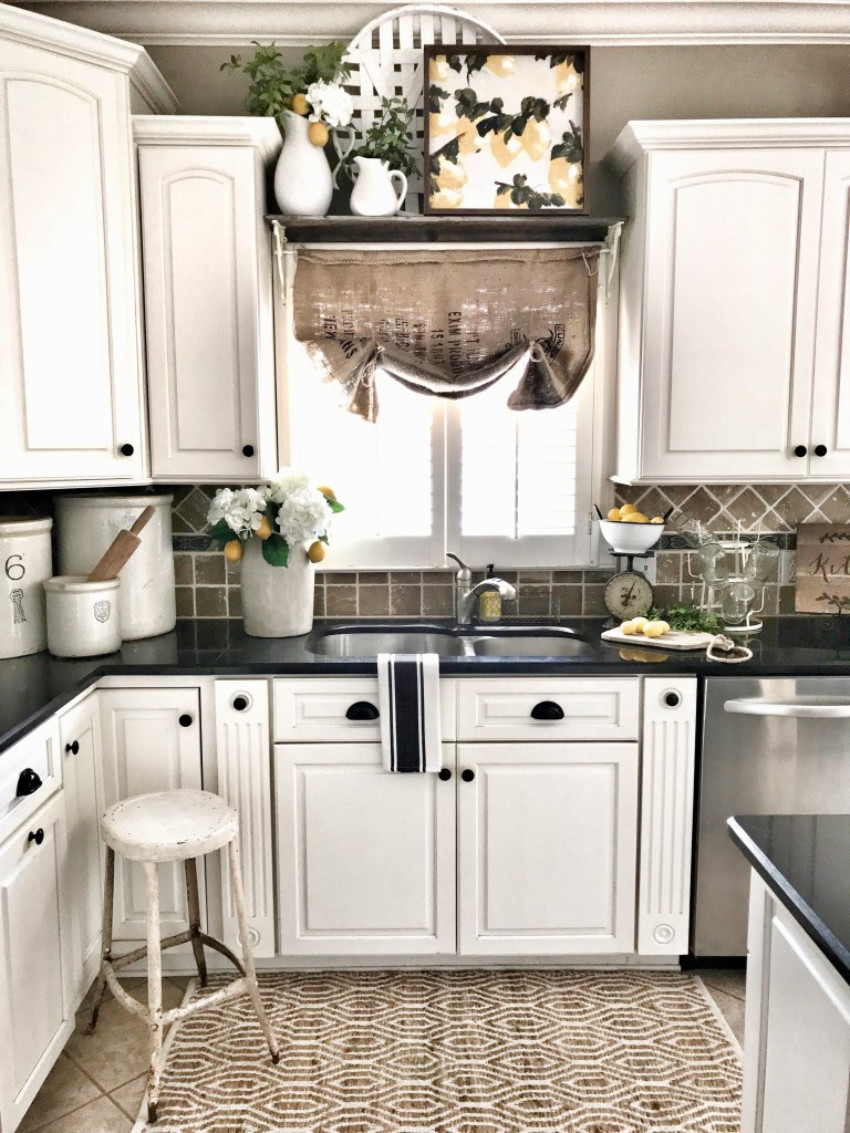 In case you already have a neutral backsplash at home, it is possible to dress it up a bit with some additional farmhouse decor. This will literally create a new look in your kitchen!
In this inspirational photo above, the designer decided to go for fresh lemons neatly displayed on the counter. The lemons add a subtle hint of bold colors in what is already a neutral background. A rustic stool can also be seen in the corner. Although the kitchen is small, these minimalist farmhouse details make it look quite classy.
Metallic Detailing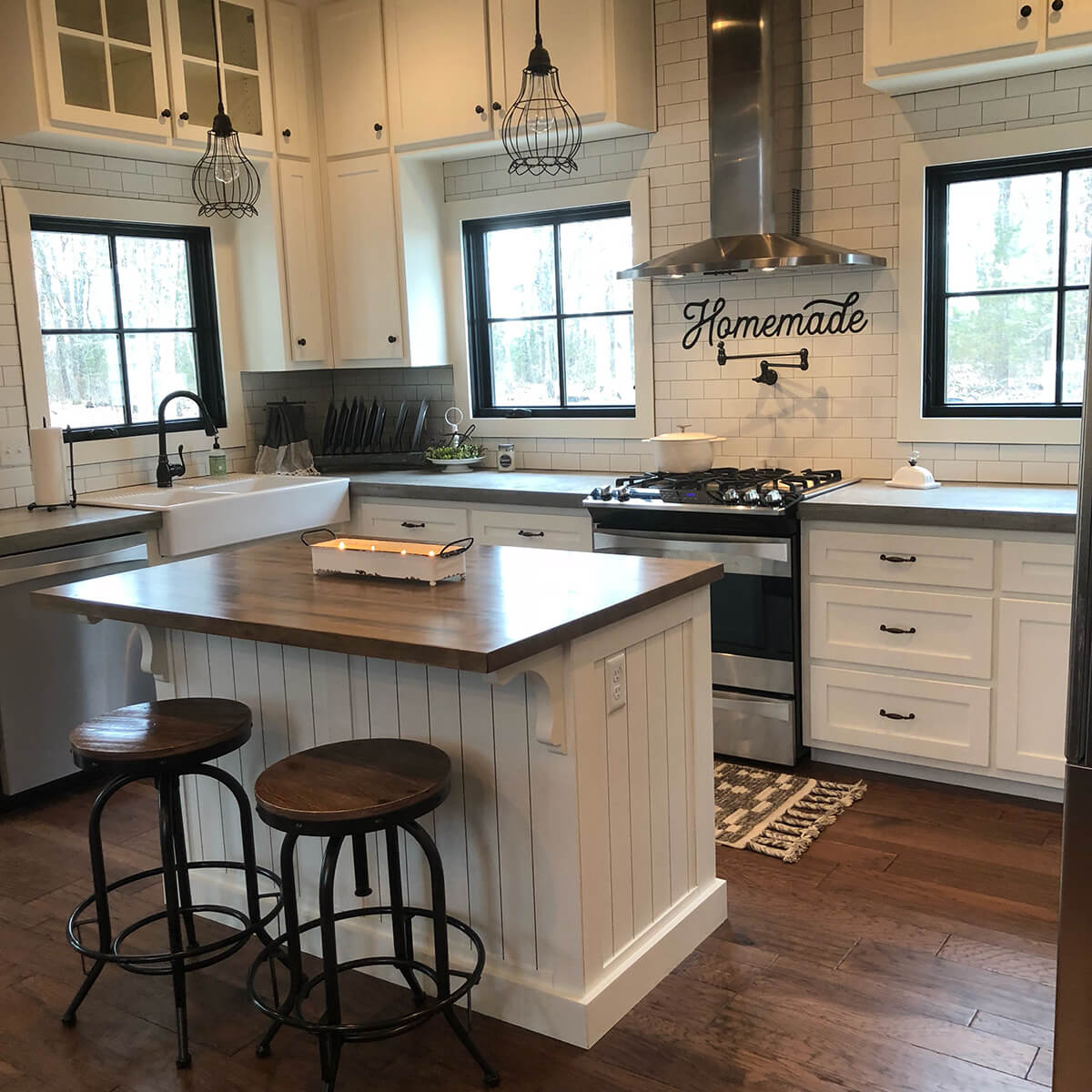 Farmhouse kitchens are defined by their ability to create a warm and inviting feeling. You can enhance this feeling further by complementing the white counter, ceiling, and backsplash with black metal details. The outcome is simply stunning!
Rustic Cabinets and Some Shiplap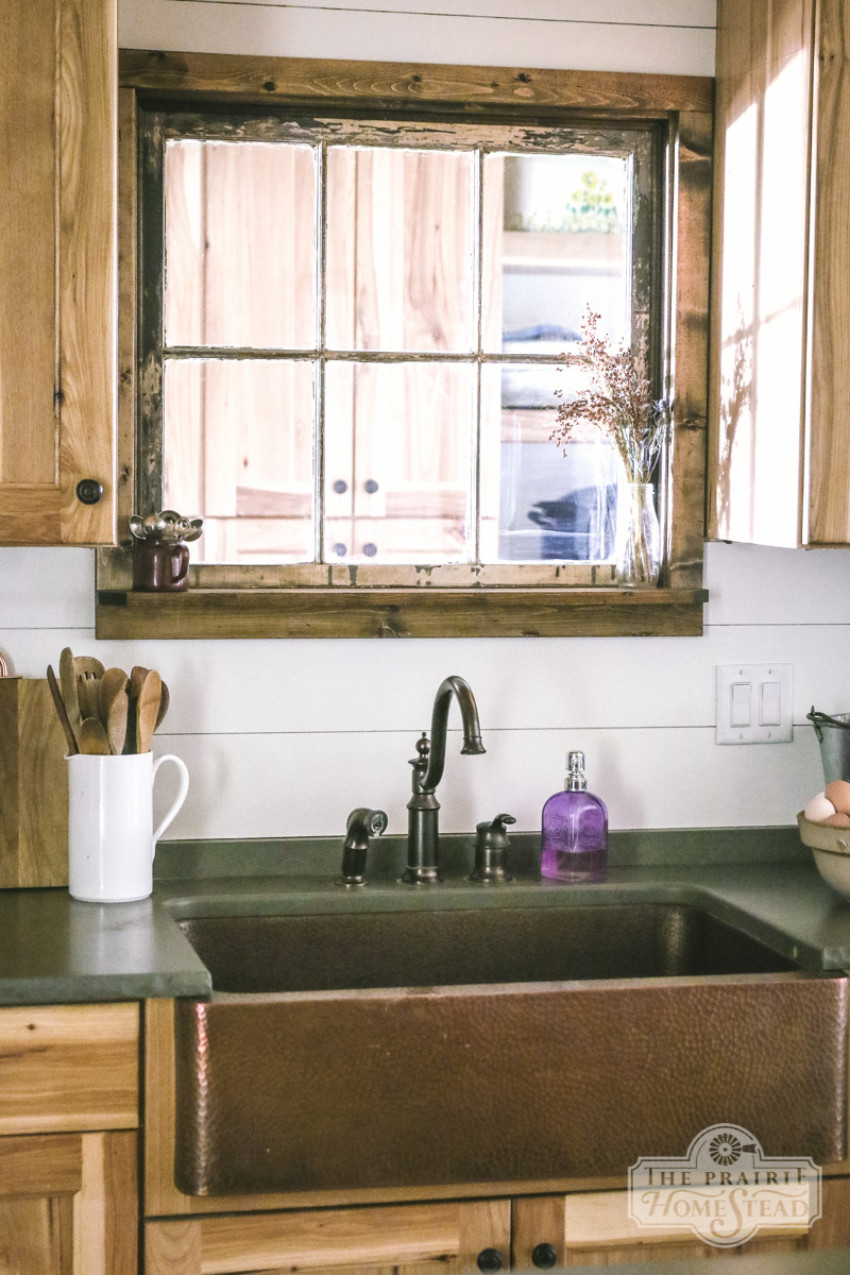 This stunning design does well to incorporate ship-lap but a little differently compared to how most people would normally do it. The ship-lap has been elegantly paired with rustic wooden cabinets as well. This delivers a superb mix of vintage style and minimalist design.
Getting a quality kitchen sometimes starts with simple things. Request a free quote to improve your backsplash and kitchen!