The HVAC inspection is an integral process in the maintenance of your air conditioning system. AC inspections offer some amazing benefits.
First, they ensure that any issues with your HVAC system are detected early and dealt with before they become huge issues.
HVAC inspection may also help you decide whether your current air conditioning is good enough or not. This routine annual process will save you a lot of fees in air conditioner repair down the line.
But how much does a simple, HVAC inspection cost? We have some details here below.
HVAC Inspection Costs
The cost of HVAC inspections is not standard. In fact, it varies a lot from one place to the next. Certain factors determine the cost including the type of contractor you are using, the size of your home, and even your location.
However, the average HVAC inspection cost will range from $200 to $400. It may seem like a steep price for now. After all, many people think that inspection is a simple thing that they can do on their own. But this is not true.
The HVAC system is one of the most important appliances in any home and paying a professional to inspect it is always worth it down the line.
What Does An HVAC Inspection Entail?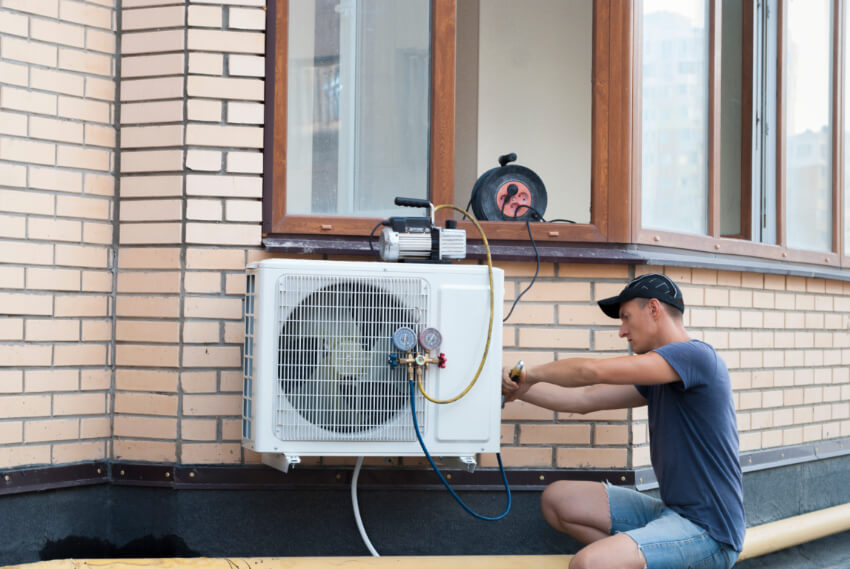 If you are going to pay for an inspection on your HVAC system, then it's only fair to know what exactly you are getting. Think of the inspection as basically an HVAC tune-up process. There are three stages involved here.
The first one is the inspection. This is where the HVAC expert comes in and checks out the entire system for any possible damages and other issues.

The second part is cleaning. Yes, the HVAC inspection will need to clean up the entire system as part of the inspection. This is done for one main reason. As you clean the system, it's often easier to detect any issues.

Finally, the inspection will also involve servicing. In some cases, part replacement may be required during servicing. Although this will push the central air conditioner inspection costs higher, it will reduce the risk of a total HVAC breakdown.
Is HVAC Inspection Worth It?
To put it simply, yes, having your entire HVAC system inspected by a professional is indeed well and truly worth it.
Here are some of the reasons why:
Save On Energy Bills
As noted above, the furnace inspector will tune up your HVAC system so that it performs at optimum capacity.
Don't forget that some cleaning is also done here. All these things are essential in maintaining high levels of efficiency for your entire system. This will in the long run save you money in energy costs.
Extend The Life Of Your HVAC Unit
The HVAC system is a very expensive appliance and you don't want to replace it after a few years. With proper maintenance, modern HVAC systems can last for decades.
The great news is that proper HVAC maintenance starts with proper inspection. And it's not even that much of a big deal. Even a single inspection each year goes a very long way in prolonging the life of your system.
Avoid Costly Repairs
Part of the HVAC inspection is detecting issues as early as possible. The reason why many people end up spending thousands of dollars on HVAC repairs is simply because they wait too long before they deal with small HVAC issues.
HVAC inspections will truly save you from this. The inspections will ensure that simple damage on the HVAC system is taken care of before they evolve into costly problems.
Getting an HVAC inspection each year is one of the most recommended home maintenance tips and it works.
---
Get in touch with HVAC companies in your area anytime and schedule a meeting with a contractor.