With the holiday preparations in full force, it's more than time to start decorating your front porch too. There are many beautiful ideas out there, and we've selected the best ones - the most gorgeous and interesting ideas to make your front porch look incredible and create the proper welcome to your guests and to the season.
Snowy Welcome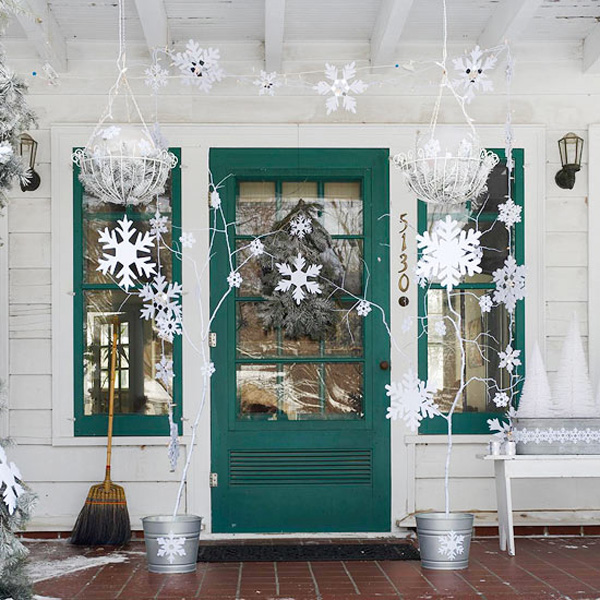 Being one of the most beautiful seasons, winter has a special place in everybody's heart. Whether your location will be greeted with snow or not, these gorgeous white snowflakes make an amazing decoration idea for any front porch. The good thing is that the snowy white theme fits any style and color scheme your house may have, from rustic to modern or from neutral to bright colors, this decor looks incredible either way.
Extra Christmas Tree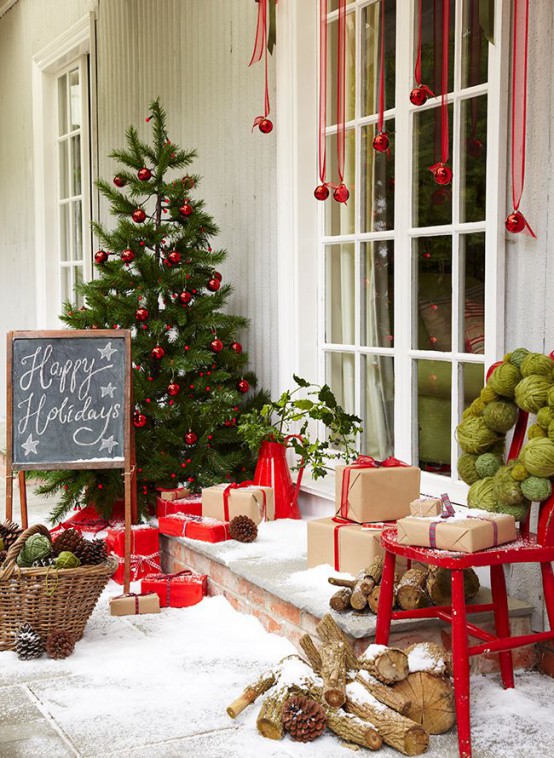 Adding an extra Christmas tree on the front porch is a great way to welcome the season and your guests. You can use simple ornaments on a live tree, add fairy lights and even make fake presents out of boxes and wrapping paper. The setting looks amazing and greets the holiday like no other decoration does.
Green Porch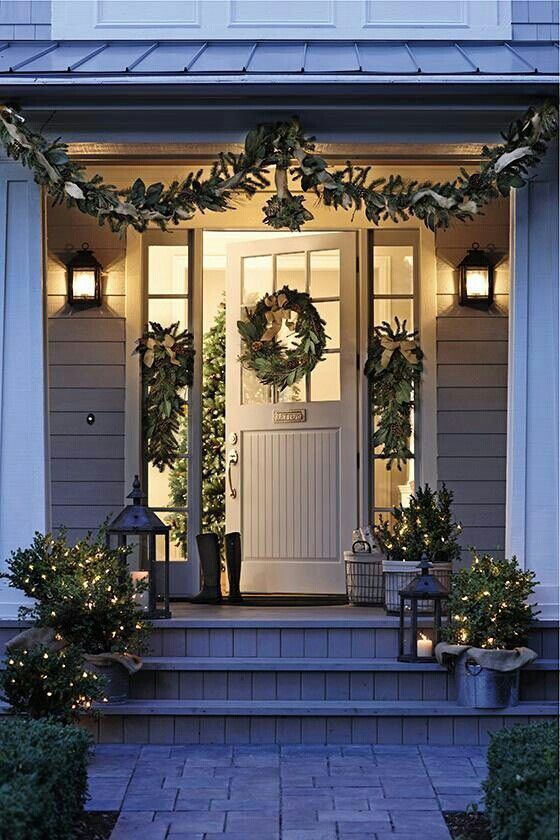 Greenery is always an amazing choice for decoration, and it also makes an inspiringly gorgeous idea for December. A full wreath, a big garland mixed with ribbons and a couple of small topiaries wrapped in fairy lights can do wonders to usher in the season.
Rustic Sign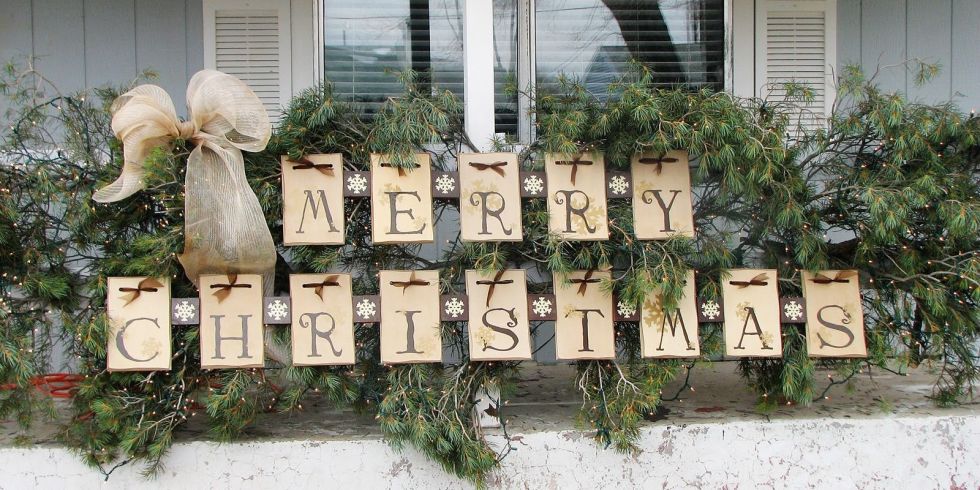 To take full advantage of your front porch to greet your guests, you can add signs and phrases that will welcome the holidays. This cool idea from the photo by All Things Thrifty is made with small blocks of MDF, but you can also use cardboard paper, styrofoam, or many other materials and hang or tape directly on the wall.
Pinecone Fever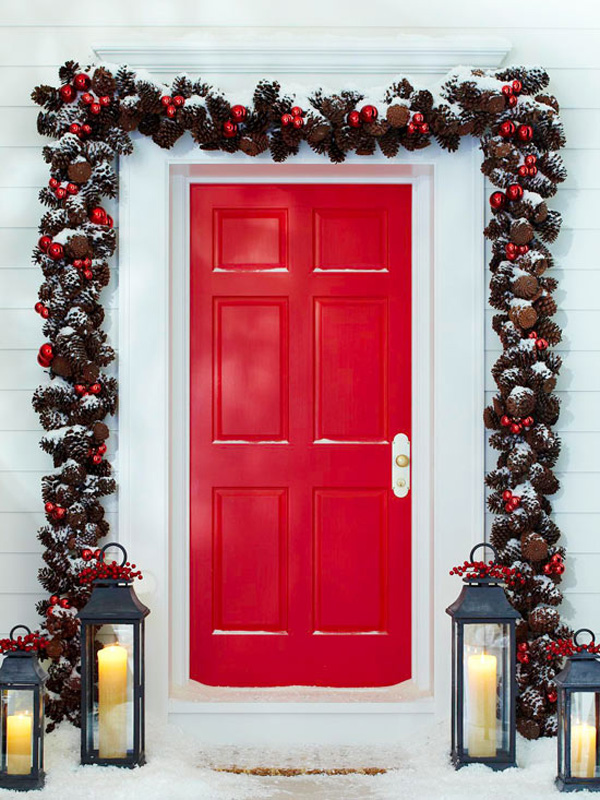 Pinecones have a special place in every decoration this time of the year, and using them on your front porch is a great idea: they're durable, beautiful and fit any decór style. Make a beautiful arch around your front door mixing real or faux pinecones and colorful ornaments or even include flowers and your front porch will not fail to invite carollers for a song or two.
Step-By-Step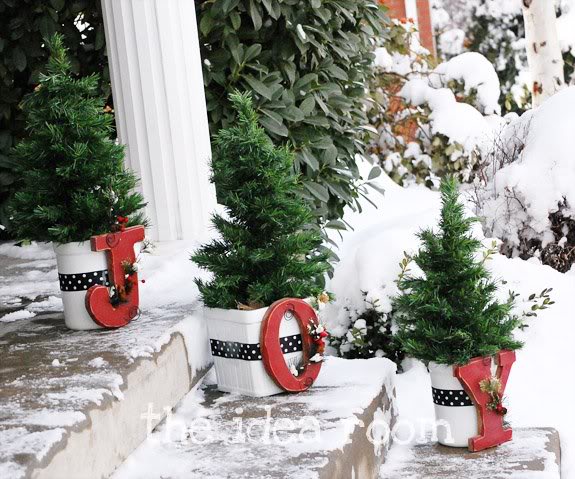 Take advantage of your steps to create a beautiful porch decoration. There are many different ways to decorate, including:
Vases of flowers;
Trimmed bushes;
Mini Christmas Trees;
Lanterns filled with candles, ornaments, pinecones, or fairy lights;
Oversized ornaments;
Seasonal gourds;
Etc.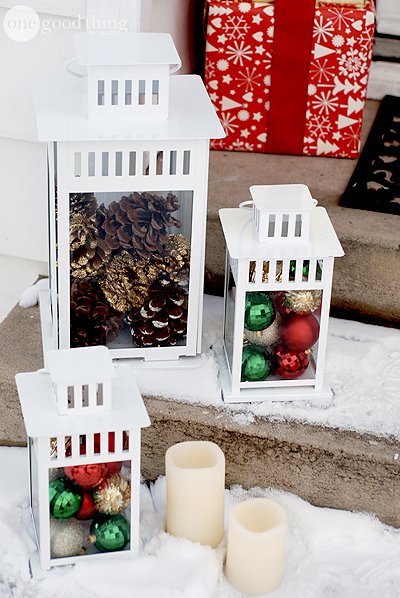 Use what you already have around your home and make the steps welcoming and inviting!
Red and Green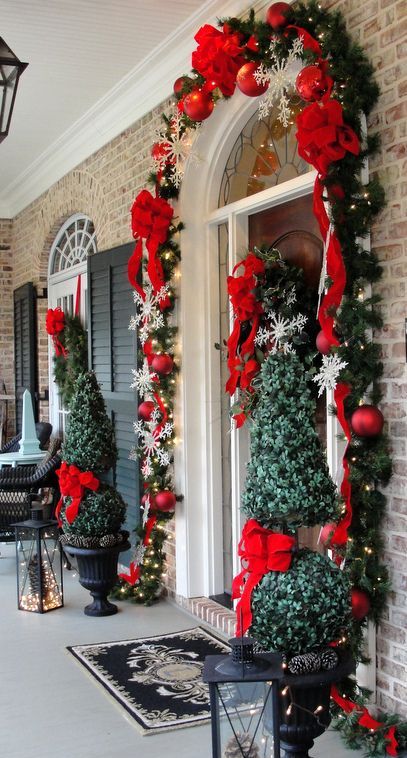 Create a very jolly and seasonal decoration by mixing green and red, the traditional colors of this holiday season. You can use greenery in vases, and on garlands and wreaths. Add the red with ribbons and ornaments all around the front porch, to create a warm and welcoming feeling. Who doesn't love the mix of the two colors? You can also use neutral colored pieces to add to the decór like pinecones and plastic snowflakes, for an amazing finish!
How's your December decorating coming? What do you think of these ideas and which ones are you adopting? Let us know on the comment section below, we'd love to hear your opinion!