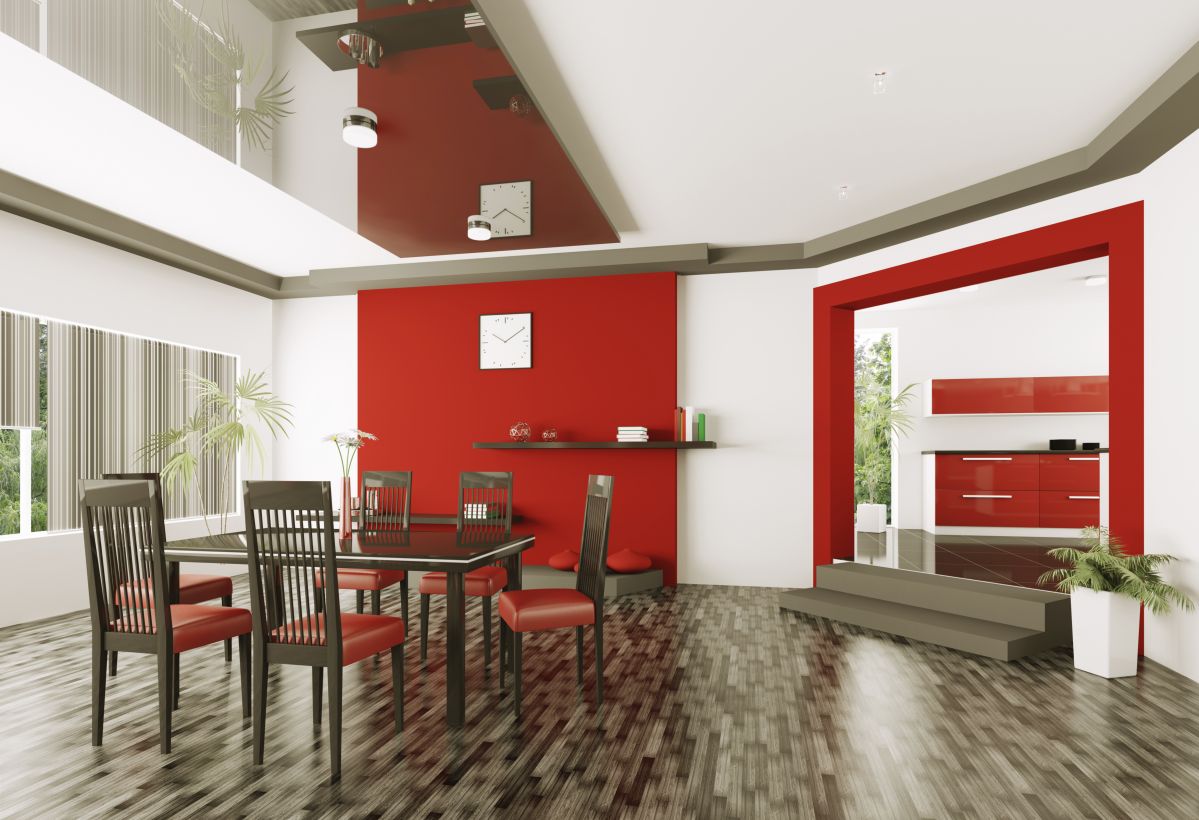 Painting is one of the easiest, cheapest ways to update any room in your house and can make you feel like you're living in a completely new, refreshed space. Not only are interior painting projects easy to DIY, but there are endless options to choose from and get creative with. If you don't have the time or energy to fully paint an entire room, or if you're simply looking for a fresh look and you don't totally hate the color pattern you're working with, consider using either of these two tricks to create a unique look for your space. Either can be used in any space in your home, and they range from very simple to extremely complex and anything in between. These updates are sure to make you feel more 'at home' in your home - don't wait any longer to paint yourself into a more comfortable living room, bedroom, or washroom!
Accent Walls
Accent walls are exactly the same as painting an entire room except with much less work and much less time, as you're only painting one wall a different color. The color should be either similar in color but different in shade than the other walls, or it should be a different and complementary color. You'll want to pay extra attention to which wall you use as an accent wall - you can choose a wall that serves a particular purpose, such as the headboard of a bed or the vanity in bathroom, or a wall that has a particularly special feature, like a fireplace or built-in bookcase. If you're still not sure which wall is right for this particular interior painting project, think about which wall your eyes are drawn to first when you walk into the room. Odds are this wall is the one you want to highlight. Be careful about putting too much big furniture in front of the wall or filling the accent wall with too many odds and ends or you'll ruin the effect of your new paint job, and make sure you cover the adjoining walls well before painting. Want to go the extra mile? Consider adding a painted pattern or design to your accent wall. Whatever you decide to do, the possibilities are endless, so let your creativity flow!
Split Walls
If you're looking for a new look, don't particularly like the accent wall look, and/or you have a little more time than is required for an accent wall, you may like the look of a split wall. There are various ways to create this look; if you're a big fan of paint, you can simply use tape to mark the dividing line and paint the top, then paint the bottom (work top down to prevent any drips from destroying work you've just finished). You can also use this same idea but divide the two sections with molding in a complementary color - this gives the room a little more structure and can add an interesting detail to your interior design. Other options for split walls include using panelling for the bottom portion of the wall (anywhere from the bottom third to the bottom two-thirds); wood panelling has fallen out of style, but there are lots of other options, including wainscoting and beadboard panelling. These take a little more time but create a fashionable, timeless look of elegance and possibly formality, depending on the style you choose. As an added bonus, you can decide where to divide the top of the wall from the bottom, which can create an interesting visual aspect and help your room look taller, if your room is vertically challenged.