There are many reasons why house demolition may be necessary. The house may be in irreparable damage from a fire, earthquake, tsunami, or another disaster. A buyer might want to build a newer home in place of the old dilapidated structure that stands. However, demolition projects can get a little pricey paying for permits, labor, and deconstruction expenses. But, there are many DIY steps online that can help you demolish anything from a wall to an entire garage to help reduce some costs. Another way to save on costs is to recycle the materials used from your demolition project. When you show proof that the materials used from your project have been reused or recycled, you could get full compensation of that deposit.
In order to begin the demolition process, you most likely need a permit from the government, different for each town or city. You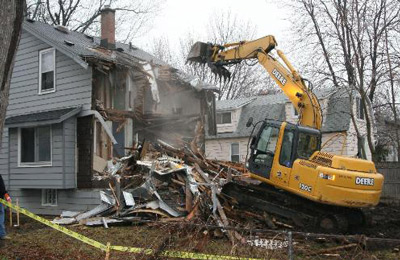 need to contact your city's building inspector to find out what necessary permits are needed to start the project, again varying on the method or materials you use for construction. According to the Massachusetts Department of Environmental Protection, MassDEP, they require a 10 day notification prior to the construction or demolition for all edifices, except for ones that are less than 20 units. If you go through with your demolition project without the necessary permits, there could be unfavorable consequences. Some cities issue fines that depend upon the type or cost of the structure you demolished.
Here are some helpful tips for demolishing a brick wall. Brick walls are extremely durable and beautiful for the interior or exteriors of the house. While, they look extremely hard to disassemble, they are actually quite easy to take down one brick at a time with power tools and saws.
You first need a dumpster set up nearby to throw the individual bricks in. Then set up the scaffolding and spread tarps against the wall going one and a half time the height on the ground. After, cut vertically from the top to the bottom of the wall about 2 to 3 feet apart with a portable gas powered masonry saw. Next, use the hammer drill, set on vibrate, and start at the top of the wall moving along the seams of the bricks until they are free. Continue this process of removing one brick at a time. Though this technique may take patience and time, it is important that you work cautiously and slowly to avoid injury. If you try to attempt to remove more than one brick at a time, it could result in bringing down the entire wall. Also, wearing safety goggles, dust mask, gloves, and boots are smart for protection.