A wood porch is an excellent addition to any house, perfect for grilling meat or sipping a cool refreshing lemonade in the summertime. However, at times, they can be very high maintenance due to their constant exposure to the elements year-round. Because wood porches need regular attention, it is absolutely important to invest in quality wood, materials, and paint that will last longer in between retouches. There are six key points to think about when repainting your wood porch floors.
Steps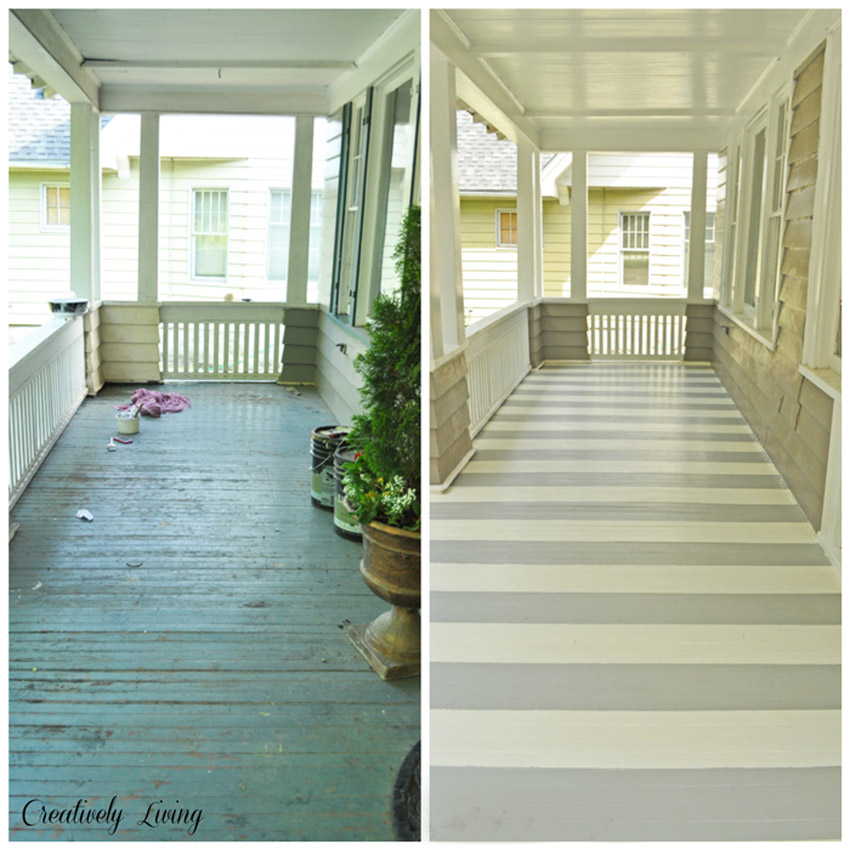 First, figure out the square footage of your porch so you buy enough paint to cover the entire area. Make sure to mix the paint blends in a large container beforehand to create an even-toned color for your porch floor.
Before applying the paint color, you want to clean the porch to get rid of dirt and grime that have been building over time. Apply a solution of trisodium phosphate to the flooring then rinse with water.
Use a respirator to scrape or loosen the original paint on the flooring then sand bare the regions that need the attention. If there are several spots that require sanding, it may be best to sand the entire porch. Then, vacuum or sweep the porch of remaining sanding particles.
When the floor has finished drying, apply low-tack painter's tape to the surrounding walls, posts and balusters. To prevent paint from seeping, take the smooth side of painter's tape and seal it with a plastic putty knife.
Next, apply a layer of primer to the flooring, remembering to start from the corners and work towards the steps. It is crucial to use quality primer in this step. Keep in mind that if the original paint was latex, you can only use latex paint over it. But if the old paint was oil-based, then either latex or alkyd paints would work in this case. The primer needs between 24 to 48 hours to completely dry before adding a coat of paint.
When the primer has dried, add a layer of paint to the flooring using a small brush for the perimeter and a roller or wider brush for the interiors. Remember to paint in two directions and brush along the grain of the wood when finishing. Again, this first layer of paint will need another 24 to 48 hours to dry. Apply a second coat if needed and check its status before walking on the porch floors.
Tips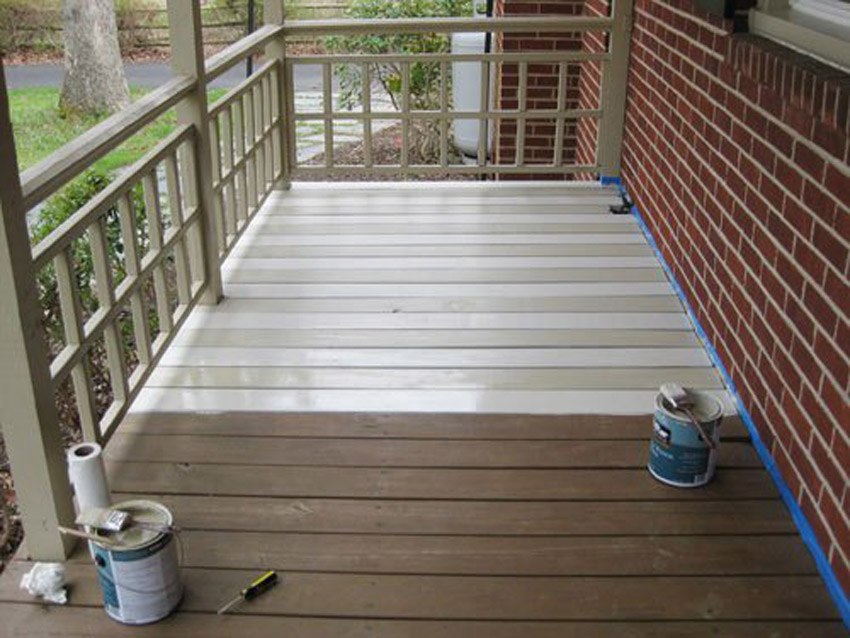 Here are some helpful tips and reminders to keep in mind during the painting process:
Primary or pastel colors tend to show dirt more easily than colors such as silver, gray, or forest green.
Remember to change the tapes in between coats to prevent sticking and look out for paint seepage before it dries.
Start by laying the paint in an "N" shape then spread over with a brush always finishing in the direction of the grain of the wood.
Always wear glasses and a mask during sanding to prevent debris from coming into contact with the eyes.
You would probably need a professional's help to remove the old layer of paint if your house was built before 1978 because of the possibility that it contained lead.