The backyard is probably one of the most preeminent outdoor living areas in most properties. There are of course a lot of things you can do with your space. Some prefer to put a bouncing castle for the kids, while others want to turn it into a pool or something like that.
However, in case you want to make your backyard a cozy little retreat where you can unwind after a long day, then it's a great idea to add a fire pit, alongside seating options and other types of decor.
Although it may seem easy, making a DIY fire pit requires a bit of skill and patience. Nonetheless, here are a few tips that you can start using right away:
Materials and Tools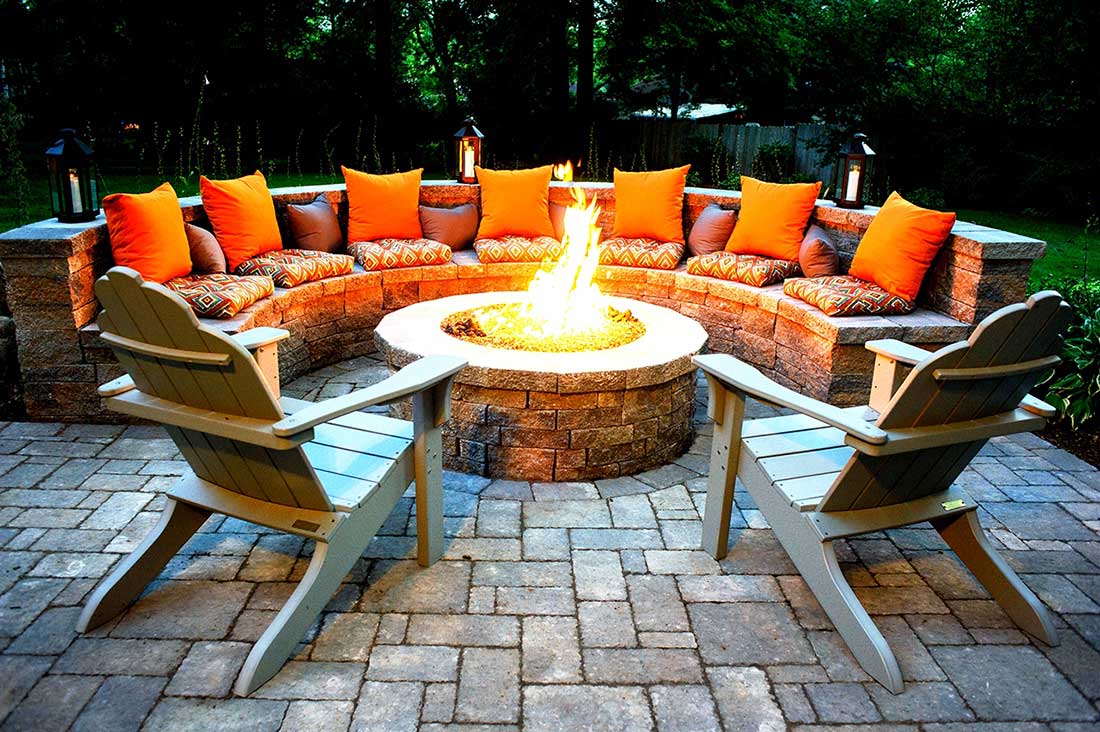 Before you start to build your own fire pit, it's important to be sure you have all the materials needed for the job. First, ensure you have a shovel to scoop off all that dirt off the ground.
You will also need some concrete wall blocks, a rubber mallet, measuring tape, sand, a level, masonry adhesive, and marking paint.
All these supplies should be available in your local hardware store without any issues.
Check If There Are Any Local Building Laws to Abide By
The last thing you want is to build a concrete fire pit that gets you in trouble with local authorities.
As part of due diligence, it's always recommended to look at local laws and ordinances with regard to building. Do you need to apply for a permit? What other considerations are required by your local building laws? You can only begin building the pit once you've received approval from local authorities.
Determine the Location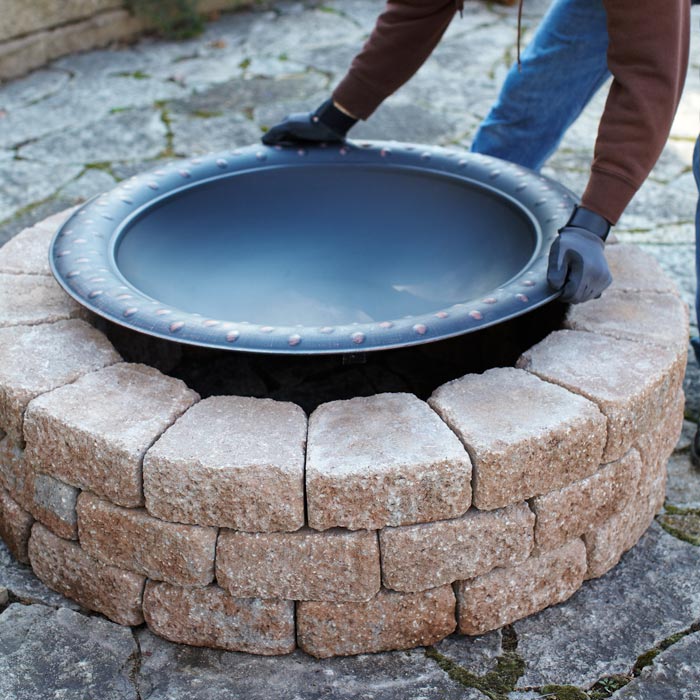 A fire pit is a fairly permanent structure that will stand in your backyard for years. It's also a labor-intensive and expensive project.
For these reasons, you need to be sure you've placed it in the right location. A good rule is to select a flat ground, since it will make your job much easier. You may also want to clear any low hanging branches to reduce the risk of fire.
Finally, pay attention to the direction of the wind to ensure the smoke from the pit doesn't blow towards your home.
Determine the Size and Shape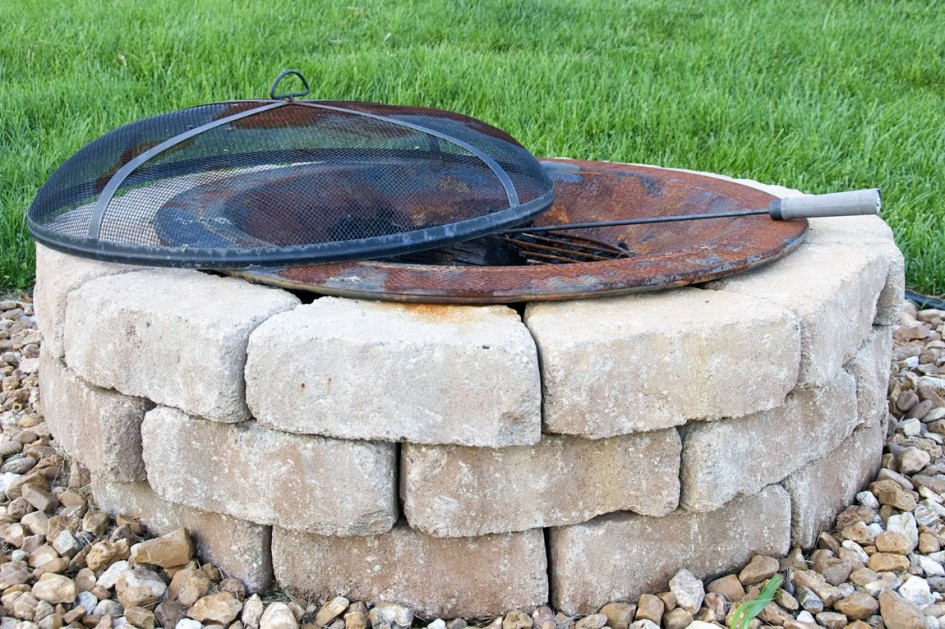 There are many brick fire pit ideas out there. Some are larger than others and come in a wide range of shapes.
Before you start any work, make sure you have a pretty good idea of the size you want and the overall layout.
These things are determined by several factors. For example, for those of you with smaller backyards, consider going for a smaller fire pit.
Remove the Dirt At Least 8 Inches
Once you're sure of the size and the layout, it's time to get down to work. Start by removing dirt from the ground. Go roughly 8 inches deep, and try to make the hole as leveled as possible.
Once you're done, fill the excavated area with a thin layer of sand. Compact the sand until it forms a solid surface. Again, ensure the pit is as leveled as possible.
Lay the Concrete Retaining Walls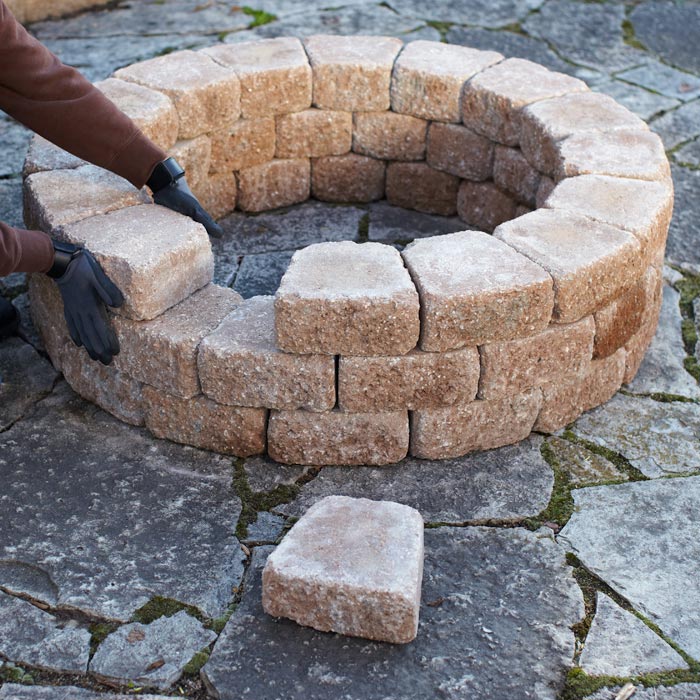 The next step after preparing the pit is to put in the bricks. You will start by installing the retaining wall blocks along the edges of the fire pit.
Use the rubber mallet to tap them into the ground, if you're building it straight into your lawn. Continue laying the blocks with concrete adhesive in between until the desired height is achieved.
Add a Layer of Gravel
The final step in fire pit construction is adding a layer of gravel into the pit. Some people prefer to pour in the gravel after one or two single layers of concrete blocks, and continue building from there. After this is done, you may want to place a steel bowl or leave the firepit as is. That's it!
---
Building a firepit requires quite some effort and time, so consider hiring a local pro to help you out!