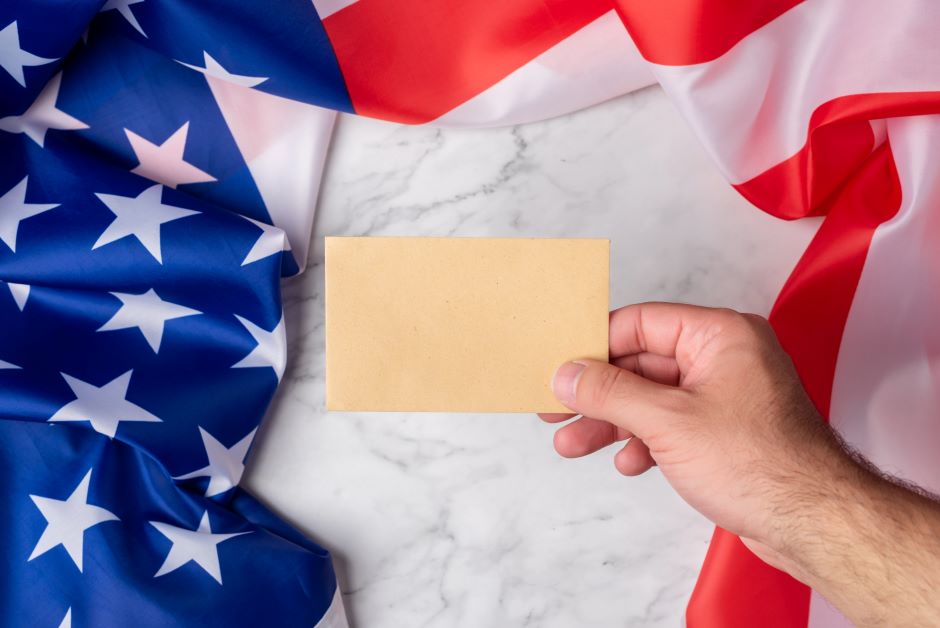 Of all the possible ways to honor the brave people who have fought for the United States of America, writing honest and heartfelt messages can be the most rewarding. Whether you want homemade Veterans Day card ideas or inspiration for activities with children at school or home there are multiple messages to write!
In this guide, you'll find 12 creative and easy-to-make Veterans Day card ideas, from Veterans Day card ideas perfect for school to impressive poster-sized tributes. Keep reading!
12 DIY Homemade Veterans Day Card Ideas
Regardless of whom you want to celebrate, these ideas are going to warm the hearts of any veterans who have the opportunity to see the special cards. Read on and get inspired!
Craft a card featuring a soldier's silhouette in uniform with the American flag as the background; add a simple "Thank You for Your Service" message for a touching tribute

Create a poppy-themed card, inspired by the symbol of remembrance. Paint or draw vibrant red poppies and include a beautiful message

Use camouflage-patterned paper or paint to design a card with a military flair. You can try to personalize it with a note of appreciation that comes from your heart

Make a miniature American flag using red, white, and blue paper, and fold it into a card shape. A nice option is to write your message of thanks on the stripes

Cut out dog tag shapes from metallic paper and add a short message to resemble a soldier's identification tag, which will certainly remind them of the ones they used to wear

Create a silhouette of a saluting soldier with a setting sun background. It is a simple yet touching design anyone can make

Collect images of veterans, military symbols, and patriotic elements to create a collage card, representing the diversity and strength of our armed forces

For little ones, here is a Veterans Day poster idea for school: have them create handprint flags or simple drawings with their thanks. Plus, help them include a sweet message too

Go big with an idea for Veterans Day posters where you can gather letters and drawings from family members, friends, or students to create a collective message of gratitude

Design cards featuring the emblems of different military branches – Army, Navy, Air Force, Marines, and Coast Guard. Don't forget to write a thank-you message alongside

Craft a card that resembles a quilt, with different fabric-like patches containing personal messages of gratitude; this unique design is sure to be cherished

Create a card adorned with miniature flags from around the world to symbolize the global impact of our veterans' service. The thank-you message can be written in the back!
Well, if you have chosen one or more of these ideas but are still stuck on what to write, continue reading to get some ideas.
What To Write On A Veterans Day Card? Choose Your Message Here
Finding the right words to express your gratitude and appreciation in a Veterans Day card is important, but it can be quite challenging. There are some beautiful messages and ideas listed below to help you convey your thanks in the form you prefer.
If you want to be simple and sincere, choose something like: "Thank you for your service and sacrifice. Happy Veterans Day!" or "Your bravery and dedication inspire us. Happy Veterans Day!".

For a more personalized touch: "Your courage and commitment to our country are truly remarkable. You're a hero in every sense." or "I'm proud to know a veteran like you. Your sacrifice and service mean the world to me.".

To represent your family you can use: "Our family is grateful for your service and the sacrifices you've made. You're our hero." or "We salute you with love and gratitude. Thank you for protecting our freedom.".

If you want to convey support and encouragement, try this: "Your strength and resilience continue to inspire us. We're here to support you always." or "On this Veterans Day, we honor your past and believe in your future. Your bravery is unmatched.".

For a poetic vibe, include a meaningful patriotic poem or a famous quote about courage, freedom, or service.

To focus on peace, write something similar to these: "May your Veterans Day be filled with peace, love, and the knowledge that you're cherished." or "Our wish for you is a lifetime of peace and happiness. Happy Veterans Day!".

Sometimes, veterans are vulnerable and need our help, so try to show that with: "If you ever need anything, please know that we're here for you. Your service isn't forgotten." or "Your service may be in the past, but our support is in the present and future. You're never alone.".
Remember that the most important thing is to be sincere and genuine in your message. A nice gesture doesn't need to be expensive, and that is why this article was brought for you by the Wisercosts' blog team. See you soon, and have a nice holiday!